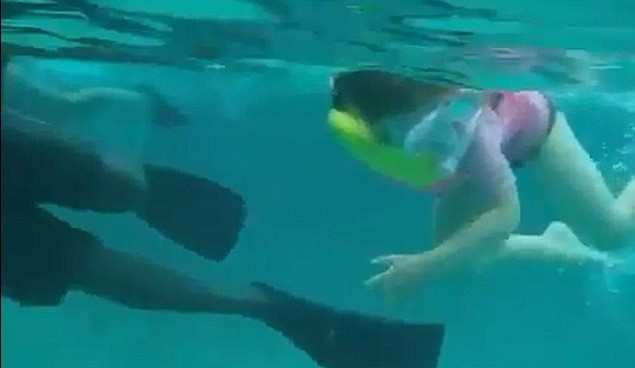 Connecticut parents who allowed their five-year-old daughter to go swimming with sharks have defended their controversial decision saying "life is too short, to be boring".
David and Elana Barnes faced fierce criticism and were branded "irresponsible" after they posted a video of their daughter Anaia swimming with sharks during a family holiday on YouTube.
In the ten minute clip, the young girl can be seen swimming with reef, lemon and nurse sharks in the Bahamas with instructors and a group of adults.
The footage, which went viral hours after it uploaded, was accompanied by the message: "We swam with Reef, Lemon, and Nurse sharks, all very low on the aggression index, yet still very thrilling! Put it on your bucket list!"
Although Nurse sharks and Lemon sharks are generally gentle and not aggressive towards humans the footage quickly split viewers.
While some slammed the couple decision as dangerous, others praised their adventurous attitude to life.
They appeared on ABC's Good Morning America this week to discuss their decision.
Her mother Elana insisted that they had weighed up the risk before allowing their daughter to take part in the experience and "at no point did I feel like this was dangerous"
Her father David argued that there are more risky things than swimming with sharks.
"There's just always risk assessments in life every day. I'm more concerned that they don't put seatbelts in school buses," he said.
Watch Anaia swimming with sharks here: