A Conservative councillor who was kicked out of the party for sharing a picture of burqas resembling binbags described his sacking as "political correctiveness gone slightly wrong".
Chris Joannides has been expelled for a year following an investigation over the image he shared on Facebook of a woman and a child dressed in burqas, who are standing between two bin bags.
It was captioned: "I saw her standing there and I told her she had three beautiful children. She didn't have to get all pissed off and threaten me. It was an honest mistake!"
Joannides, who represents Grange ward in Enfield, did not write the caption which was sent to him via a friend on Facebook but admitted to sharing it as 'blokeish banter'.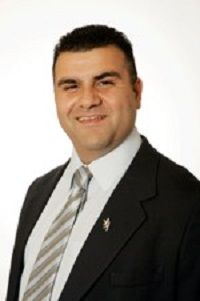 He is said to have been frustrated about the Conservative Central Office's decision to expel him after he was cleared by the police and his local party last year.
The former whip has since conceded the image may have been offensive to the community of Enfield but argued the controversial material had been in the public domain for around two years.
Speaking on London Greek Radio (LGR) 103.3FM, he said: "I've had very, very good comments, many people are in support of me including people from the Muslim community, including the Turkish-Cypriot community across London.
"People saying to me that's hilarious, we don't find that offensive it's political correctiveness that's gone wrong."
But the Conservative Central Office took a stand against his social networking behaviour to also deselect him from the local council elections in May.
A spokesman said: "Chris Joannides is not endorsed as a candidate in the forthcoming local government elections. No appeal is permitted under party rules. Furthermore, Mr Joannides is expelled from the party for a period of 12 months.
"He may appeal against this decision and it is our understanding he intends to do so."
Since the row erupted Joannides has maintained he is not 'Islamophobic'.
He said: "The picture was shared on my Facebook profile by a friend and I deleted it straight away, but someone took a photo of it before I could take it down.
"I was investigated by the police and cleared. I was reselected to stand in May by the local branch.
"Then I got an email from the Conservative Central Office at the 11<sup>th hour, telling me they were suspending my membership for 12 months, effectively barring me from standing.
"The rug has been pulled away from me. I am not and have never been Islamophobic."
Joannides, who became Britain's youngest Greek Cypriot councillor when first elected in 2006, said he was taking time off to 'reflect', but added: "I'm a loyal Conservative. I'll be back in 2018."
Michael Lavender, leader of the Enfield Conservative Group, said he supported the intervention by the Conservatives nationally.