Conservative Party Conference: Why Britain's disabled people's movement is protesting in Manchester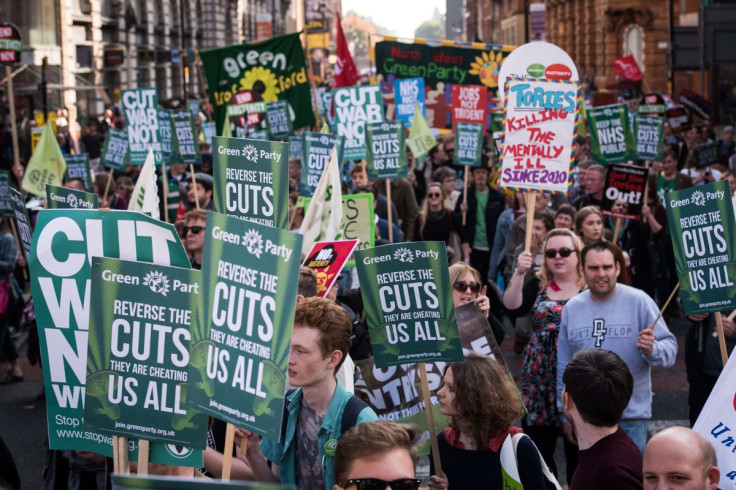 Formed in 2010 at a protest outside the Conservative Party's first conference in government DPAC (Disabled People Against Cuts) has followed the tradition of the earlier disabled people's movement using peaceful direct action and civil disobedience to mobilise disabled people as agents for change.
The Conservative government has mounted a sustained attack on disabled people and their human rights. As a result, DPAC triggered the very first UN State Party Inquiry via the UN Convention on the Rights Of Persons With Disabilities. This was done through the Optional Protocol. Evidence it gathered showed grave and systematic violations of disabled people's rights and retrogression of rights under successive Conservative governments. The inquiry is unprecedented and brings yet more shame on a government that is fast becoming known for human rights abuses.
In June this year the closure of the Independent Living Fund (ILF), a fund to support those with complex support needs, was the catalyst for DPAC's boldest action to date − the attempted storming of the House of Commons floor during Prime Minister's Questions.
Our sustained campaign against ATOS (the company that handles the government's fit-to-work assessments) began with just a couple of dozen people protesting outside its London HQ, saw a week of action during the London Paralympics in 2012 in response to their sponsorship of the games − including hundreds of protesters shutting down the head office of the Department of Work and Pensions (DWP) − and culminated in protests at over 60 offices nationwide in February 2014. A month later, ATOS withdrew from a £500m contract to carry out the Work Capability Assessments (WCAs).
WCAs have caused a number of premature deaths, the most recent being Michael O'Sullivan. Mr O'Sullivan killed himself after being found "fit for work". The story uncovered by John Pring of Disability News Service revealed that the coroner had attributed his death to a failure of the system to follow correct procedures, as such his death was attributed to the WCA system.
We also know that the DWP has carried out at least 49 secret reviews into benefit-related deaths since February 2012. Of those 49 reviews, 33 contained recommendations for improvements in DWP procedures at either national or local level, and 40 were carried out following the suicide or apparent suicide of a benefit claimant. We know there are many more deaths.
Adult social care budgets have been decimated. This funding provides support with essential tasks, such as washing, dressing, cooking and even help to go to the toilet. During the last parliament, social care budgets were slashed 25%, rising to 33% over the course of this parliament, leaving four in 10 disabled people without any support at all. The closure of the ILF has already seen many councils cut support packages. Transition funding devolved to councils intended to provide support for former ILF users has instead been used for other things by cash-strapped councils as the government refused to ring-fence it.
In 2012 alone, almost half a million disabled people lost their jobs. The total number of disabled people who've found work over the whole parliamentary period comes nowhere near this. Funds that supported disabled people to work, such as Access to Work (AtW), have been restricted; of the 1,500 disabled people working in Remploy, who lost their jobs on the promise that the money saved would be ploughed into AtW support for them, more than two thirds are still out of work today.
But by far, the biggest impact has been felt by those claiming Social Security. Mandatory retesting for every single claimant of all forms of disability benefit has come into force and when re-elected in May one of the government's first acts was a move to take many thousands of disabled people off disability benefits altogether from 2017.
Disabled people are seen as undeserving of a safety net, and will simply be left destitute and unable to meet the additional costs of being disabled. With almost 2 million people out of work, and barely half a million jobs in the entire country, working your way out of this poverty trap isn't an option for most, particularly when many of the jobs that do exist are zero-hour contracts.
Cuts to disability benefits have been compounded for many by the Bedroom Tax. Disabled people who received a rent subsidy are now charged for any "spare" bedroom. This means that rooms used to house specialist or medical equipment are a financial liability. Reduced income and rising costs means many thousands of people have left their (often adapted) homes and support networks to move into smaller homes and having to rebuild their lives. Others have chosen to remain in their homes, pay the charge and skip meals or sit in freezing cold homes.
There are, of course, too many cuts and reforms to cover fully here but they mean we must keep fighting back – literally our lives depend on it.
Paddy Murphy runs his own business in London and has been active with DPAC since 2011
© Copyright IBTimes 2023. All rights reserved.