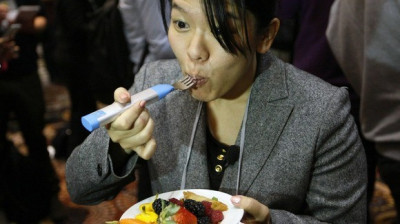 A piece of cutlery which starts flashing and vibrating if you munch lunch too quickly is among the useful - and strange - items on show at the Consumer Electronics Show (CES) in Las Vegas.
Diners get the warning from the fork, which measures how fast you are eating and how many servings on the fork you consume. The implement lights up like a Christmas tree to nag the user when they begin to overdo it. It's probably not something to take out to a restaurant, if you are self-conscious about shedding pounds.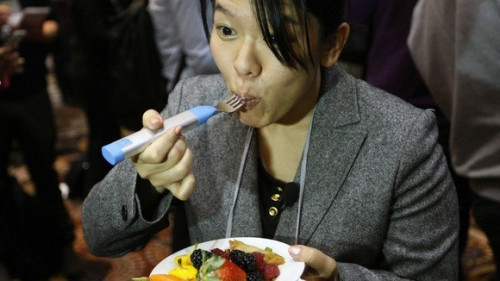 Also on display is a great example of advanced technology applied to everyday situations. Beer-resistant mobile phones - which could be one of the highlights of the event for its practical application.
Dropping your phone into liquid is usually a surefire way to frazzle your palm-held life support unit so a super-robust unit capable of withstanding contact with fizzy lager or the water in a toilet bowl would be a welcome step in human progress.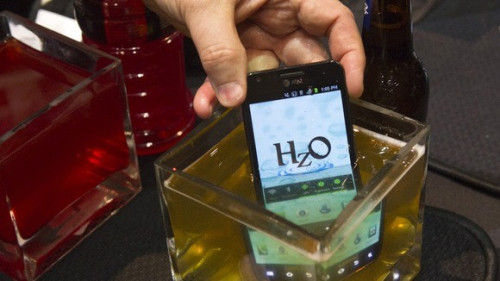 No consumer show would be complete without swanky items to tempt customers into parting with wads of cash.
Say Hi to the $100 (£61) mouse. The Gila GX Gaming Series is packed with 12 buttons. They can loaded with a total of 72 macro keys, according to developers. It also has a picture of a scorpion on it and comes with rubber-injected sides.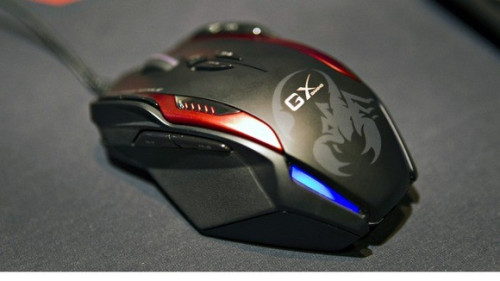 Also at the Consumer Electronics Show is the largest app event in the world, organisers claimed.
Gary Shapiro, president of the Consumer Electronics Association, promised the event would be the best showcase for the benefits of mobile-driven technology.
Shapiro said: "Apps are everywhere - on our phones, computers and tablets. Apps are making their way into our everyday lives and, as a result, benefit our lifestyle.
"The 2013 International CES is the only place in the world for developers to experience the largest gathering and broadest range of apps, from manufacturers, software providers and other developers.
"The entire apps program at CES can open doors through networking opportunities and offers the chance for app developers to display their skills."
CES runs for three days.