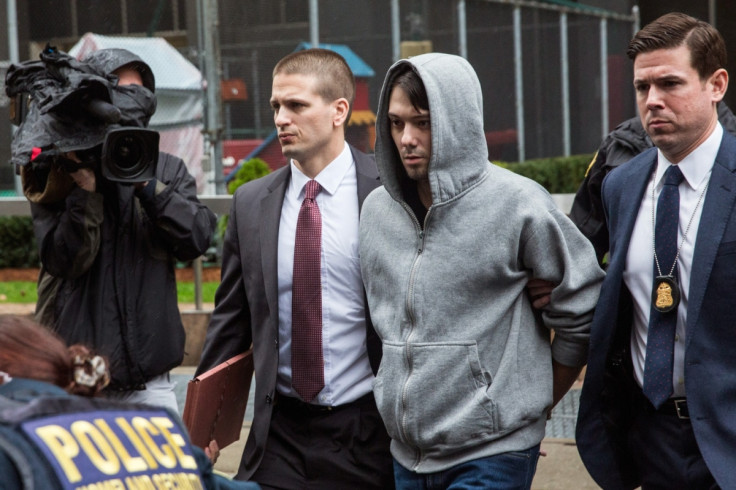 Martin Shkreli has been fired as chief executive by drug company KaloBios and has resigned from the board of directors after his arrest by the FBI.
He was arrested by the FBI on suspicion of securities fraud involving another company unrelated to KaloBios.
The FBI, which arrested Shkreli at his apartment in Manhattan, accused him of using assets from his former company, Retrophin, to pay off debts at MSMB, a hedge fund he managed. He was released on $5m (£3.53m) bail.
He was labelled the 'most hated man on the internet' earlier this year when his company, Turing Pharmaceuticals, raised the price of a lifesaving HIV drug by 5,000%. Shkreli has already resigned as head of Turing Pharmaceuticals.
Shkreli has denied the fraud charges and has said his arrest was due to his high-profile decision to raise the price of Daraprim. In September, Turing increased the price of a Damaprim pill from $13.50 to $750 and Shkreli has been forced to defend his actions repetitively on social media.
He said in a statement: "It is no coincidence that these charges, the result of investigations which have been languishing for considerable time, have been filed at the same time of Shkreli's high-profile, controversial and yet unrelated activities.
"The government suggested that Mr Shkreli was involved in a Ponzi scheme. Ponzi victims do not make money, yet Mr. Shkreli's investors enjoyed strong results," Bloomberg reported.
Shkreli is reported to have paid millions of dollars for the sole copy of rap group Wu Tang Clan's latest album, Once Upon a Time in Shaolin. And earlier this week his Twitter feed was hacked and his name changed to "Martin of God".