Controversial Trump counterterrorism aide Sebastian Gorka refuses to call Islam a religion
Gorka says America's "enemy is radical Islamic terrorism", contradicting new National Security Adviser.
US President Donald Trump will continue using the phrase 'radical Islamic terrorism' despite his National Security Adviser's warnings against it, said a White House counterterrorism aide on Wednesday (1 March).
"We're not going to listen to so called terrorism experts who are linked in anyway to the last eight years of disastrous counterterrorism," said Sebastian Gorka, a deputy assistant to the president focussing on national security during an interview on National Public Radio (NPR).
"The last eight years of denying what the threat is, saying we need jobs for jihadis, it's about root causes and upstream factors is wholly fallacious," Gorka said. "If poverty and lack of education were the cause of terrorism then half of India would be terrorists."
When asked whether President Trump thinks Islam is a religion, Gorka refused to answer the question. "This is the White House, and we're not going to get into theological debates," he said. "If the president has a certain attitude to a certain religion, that's something you can ask him. But we're talking about national security and the totalitarian ideologies that drive the groups that threaten America."
Gorka added that picking out Islam as America's enemy "would be asinine", and that the US was not engaged in a war with Islam but that there "is a war inside Islam" and "for the heart of Islam". He said said this was a choice between the religious extremism that al-Qaeda and Isis were offering or American allies such as Jordan and the United Arab Emirates.
In a closed meeting last week Trump's new national security adviser Lt Gen HR McMaster reportedly advised the president not to use the phrase 'radical Islamic terrorism' when talking about terrorist groups such as Isis or al-Qaeda. "Even a small change" in how the president refers to extremist groups "would be an improvement in his view," a White House aide told Politico.
Last week, during McMaster's first address in his new role within the National Security Council, he said Trump's recurring phrase 'radical Islamic terrorism' was not useful for fighting against radical religious terrorist groups, the aide said. McMaster, who served in both the first and second Iraq wars, became known for countering insurgencies by winning the trust of Muslim communities.
NPR reporters quoted McMaster on the record saying: "I don't think we should call them radical Islamic extremists. They are not Islamic, they are criminals perverting Islam."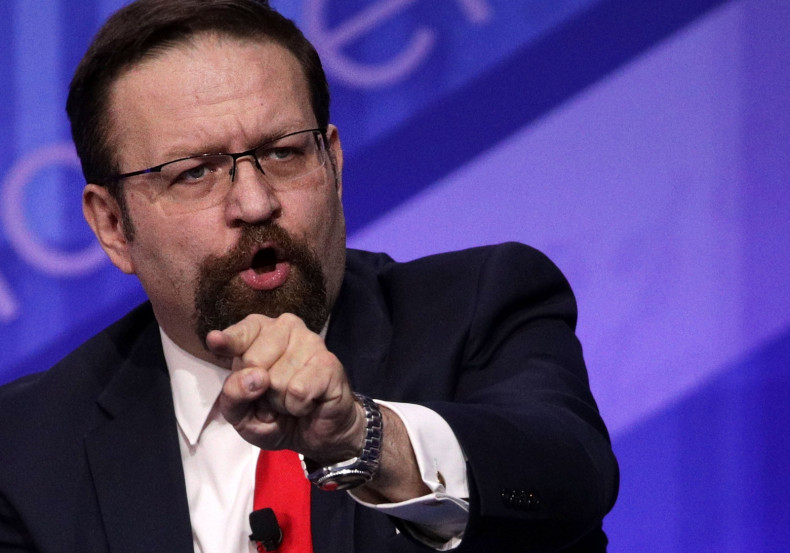 But Gorka disputed the characterisation of McMaster's comments. "He didn't actually say that. He was talking specifically about Isis at the time. We're talking about the broader threat," Gorka said.
As one of Trump's leading terrorism advisers Gorka has drawn criticism for the fact that he reportedly does not speak Arabic and has never lived in any of the Muslim-majority nations that his role involves. Some experts said they were surprised to hear he was working in the White House.
Gorka was also formerly a Fox News contributor and served as the national security editor at the right-wing news website Breitbart, which Trump's chief strategist Steve Bannon headed until joining Trump's election campaign.
Lawrence P Rubin, associate editor of the leading peer-reviewed anti-terrorism journal Terrorism and Political Violence, has questioned Gorka's expertise. "We would not have used him as a reviewer because he is not considered a terrorism expert by the academic or policy community," Rubin told Newsweek.
Nevertheless, by not using the phrase 'radical Islamic terrorism,' Gorka told NPR, "the threat has been obfuscated for eight years under Obama. The enemy is radical Islamic terrorism and that has not changed and it will not change".