President Donald Trump has been accused of suggesting that the recent spate of bomb threats made against Jewish organisations could have been false flags designed to "make others look bad".
On Tuesday (28 February) Trump was speaking with a number of state attorneys general in Washington when he was asked about the threats, currently totalling over 100 in 2017.
Pennsylvania Attorney General Josh Shapiro said Trump answered: "Sometimes it's the reverse, to make people - or to make others - look bad."
Shapiro's account of the meeting was reported by Buzzfeed and also on the Twitter account of local Pennsylvanian reporter Anna Orso.
According to Buzzfeed Shapiro also said: "He [Trump] did correctly say at the top that it [the spate of threats] was reprehensible... It didn't make a whole lot of sense to me."
Orso tweeted: "Shapiro stopped short of saying Trump thinks his supporters are being framed for bomb threats. But he seems to think that's what he meant."
More than 100 bomb threats have been made against Jewish institutions in the US and Canada this year. So far no explosive materials have been discovered after any of the calls.
This week the trend appeared to be spreading globally as Jewish museums in both London and Sydney were evacuated following hoax bomb threats.
In the last 10 days hundreds of Jewish graves were desecrated at incidents in Pennsylvania and St Louis.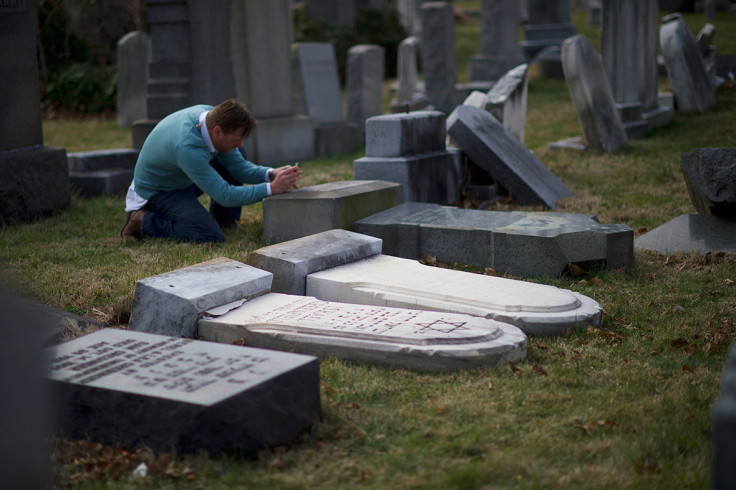 Earlier Anthony Scaramucci, who is tipped for an advisory role in the Trump administration, tweeted: "It's not yet clear who the JCC offenders are. Don't forget The Democrats' effort to incite violence at Trump rallies."
He included a link to an October 2016 Breitbart article alleging that Democrats were intentionally instigating violence at Trump campaign events.
Trump's meeting with the attorneys general took place just hours before his first address to Congress, in which Trump condemned the threats and the vandalism of Jewish cemeteries.
He added: "We are a country that stands united in condemning hate and evil in all of its various and ugly forms."
The allegations have been made against the backdrop of an interview with Fox News in which Trump accused former President Obama of orchestrating civil unrest in a bid to undermine his presidency.
Jewish groups reacted to the allegations with a mix of fear and puzzlement, according to the Jerusalem Post. Interfaith Alliance President Rabbi Jack Moline said: "President Trump must be listening to [conspiracy theorist] Alex Jones again.
"Taken together, the remarks by Trump and Scaramucci represent an utter failure to comprehend the recent surge in violent rhetoric and attacks directed at Jews, Muslims and other religious minorities."