Convicted killer Joran van der Sloot has married his pregnant girlfriend in a maximum security prison in Peru's capital Lima.
Van der Sloot, who is serving a 28-year sentence for the murder of 21-year-old Stephany Flores, married Leidy Figueroa, 24, in a private ceremony at Piedras Gordas penitentiary in the district of Ancon on Friday.
Van der Sloot's lawyer Maximo Altez said prison officials prohibited filming and photography during the ceremony and none of the groom's relatives attended.
'It was a very simple ceremony,' he said. 'They made their respective vows, they signed the documents and that is all.'
Altez served as a witness during the ceremony and was one of just four people who attended, including the bride's mother and another lawyer.
He said Van der Sloot, 26, met Figueroa while she was selling goods inside the prison.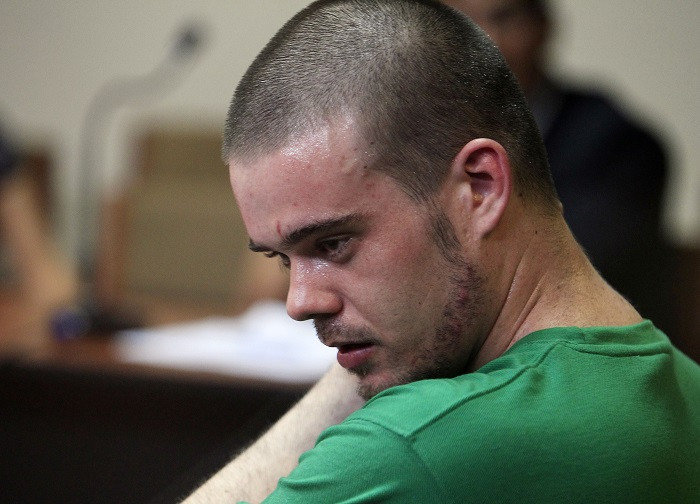 The wedding was officiated by John Barrera, mayor of Ancón. He said Van der Sloot told his partner, who is seven months pregnant, that he wants to marry her again after he is released from prison.
Van der Sloot murdered Flores, a business student from Lima, in 2010. He is also the chief suspect in the death of US teenager Natalee Holloway, who disappeared in Aruba in 2005 while on a high school graduation trip. Van der Sloot was the last person to be seen with Holloway.
The Dutch national is expected to remain in prison until 2038, after which he will be extradited to the US to face charges of extortion and fraud, for allegedly falsely promising to lead Holloway's mother to her daughter's body in exchange for payment.
Peruvian media reports have suggested that Van der Sloot may have decided to get married in order to avoid extradition at the end of his prison sentence.
His lawyer dismissed these claims, saying Van der Sloot married because he was in love and that there are no "hidden agenda".