It's all going off in Corrie this week as the Platt family go above and beyond to save David from a suicide attempt that ends up changing innocent lives forever.
Coronation Street is about to get explosive as David is determined on seeking revenge. He gets ready to conduct his horrifying plan against Clayton which involves loading up his car with petrol and driving to the courtroom to blow up both himself and Kylie's killer.
It's not so straight forward for David, however, as Gail has watched his farewell video and figures out his suicide mission. A new plot emerges as Gail forces Robert to shut down the Bistro – and gets Nick to help them lure David to the cellar before locking the door. This is all getting a bit too creepy.
Trapped and infuriated, David works out an escape route via the air vent. He begins crawling to potential freedom with thoughts going through his head of avenging Kylie's murder. But his dreams go to pot when he comes face to face with a grill over the exit, stopping him from pursuing his schemes... for the time being.
His screams give his escape away – but he still manages to break free and skedaddles in his car. Stay tuned as other residents on the cobbles will be screaming when this storyline gets underway.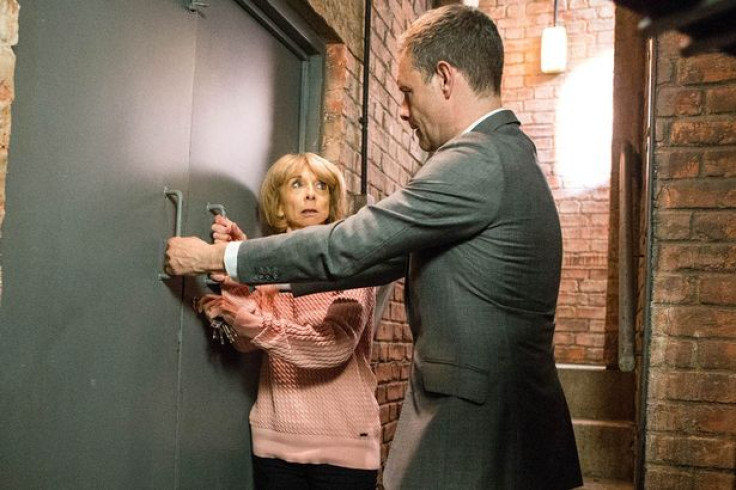 Elsewhere in the soap, anticipation mounts as Peter Barlow makes a return and is faced with a family tragedy before he barely makes it onto the street. He comes baring a few dark secrets, however, and there is mystery surrounding his comeback. His cover story is convincing no one, and least of all Ken. He's asking Tracy for money in no time.
Watch Coronation Street tonight (17 October) on ITV at 7.30pm.