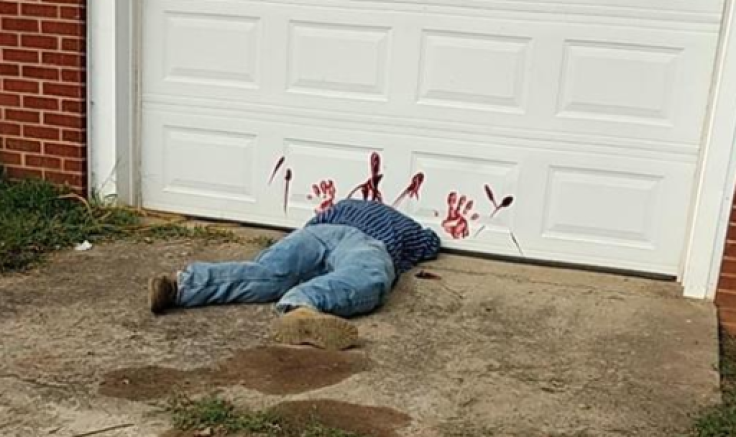 Police in Tennessee have been forced to issue a statement after several people confused a realistic Halloween display for a savagely murdered person on a residential street.
Greene County Sheriff's Department uploaded a picture to its Facebook page of the gruesome spectacle, which depicts a man being sliced in two by a garage door.
"ATTENTION EVERYONE!!! For those of you driving on Chuckey Pike in Greene County: THIS IS A HALLOWEEN DECORATION! Do NOT call 911 reporting a dead body.
"Instead, congratulate the homeowner on a great display," the accompanying message wrote.
Halloween is well over a month away but that clearly has not stopped enthusiasts in Tennessee getting their preparations done early.
The Sheriff's post has been shared almost 3,000 times and users paid tribute to the seasonal artistry in the comments section.
Trevor Perry said: "Congratulations to these people making something look so real! That is literally the spirit of Halloween, to scare the cr*p out of people, if some of you all have forgotten. But nowadays everyone wants to be as harmless and bright and peachy like we are in a dang toddler's TV show."
Judy Wilson Starnes took a more austere approach to the ghoulish hoilday, writing: "One... of many... reasons I detest the Halloween season. What kind of picture does this paint for young children?"
Kile D Morgan tried to temper Starnes's objection, saying: "With the internet and clown movies at children's disposal, you shouldn't really be concerned."
But she could not be encouraged to let go of her moral qualms. She said: "I'm TOTALLY concerned about the stupid clown movies, social media, Youtube, etc. It saddens my heart that my grandchildren are exposed to such atrocities and am disgusted that parents think it's OK!!!"