This is the terrifying moment a knife-wielding moped gang pounced upon two innocent women in their 60s on the streets of London in broad daylight.
The four-strong crew of marauders, riding two vehicles, were cruising Bensham Manor Road in Thornton Heath when they spotted their target.
One of the thugs leaped onto the pavement with his weapon raised, demanding the women hand over their jewellery.
She squealed in terror. A passer-by bravely put his body in between one of the victims and the attacker, who seemed reluctant to use a weapon.
Eventually, another gang member had to dismount and help take the victims' treasured possessions.
The gang sped off with four gold chains, leaving the brave witness with a minor head injury. He has since been discharged from hospital.
The brazen attackers' faces could not be seen because they kept their helmets on.
The footage was shared on Twitter by an account apparently belonging to the Norbury Labour Party, but it is unclear if someone connected to the account recorded the incident or if it was shared on someone else's behalf.
The attack happened a stone's throw from Brigstock Road, where a similar attack took place on 31 August. Two men riding a single moped robbed an innocent pedestrian just outside Whitehorse Manor School, the Croydon Advertiser reported.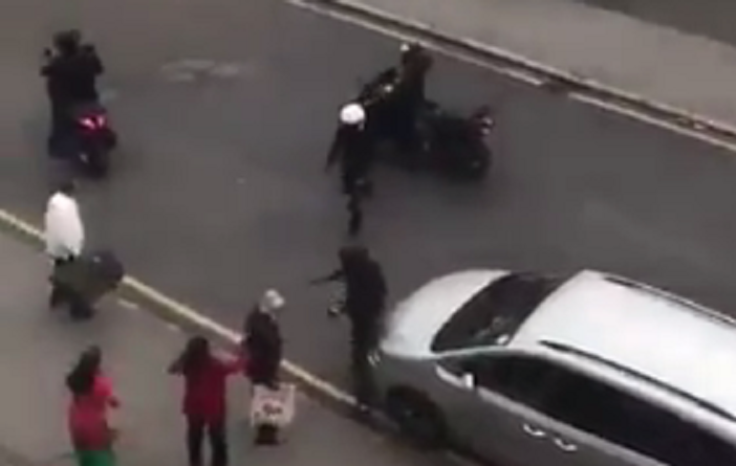 Figures released by the Met earlier this year showed there were 9,029 crimes where the suspect was riding a moped or motorcycle – a 750% increase on 2014's total of 1,053.
A series of shocking clips have emerged in recent months showing the lengths this increasingly brazen breed of criminal will go to in order to snatch other people's property.
The high-profile spate of moped-enabled thefts has garnered more headlines than its sister crime in which thieves steal parked mopeds from the streets of London, often to commit further misdeeds with.
Thefts of mopeds and motorbikes surged to 14,938 in 2016 – a 55% increase on 2014, when there were 9,660 incidents.
Police believe that the two trends are related: a new double-edged criminal culture has emerged whereby thieves steal motorised vehicles and then use them as speedy getaway engines for high street muggings.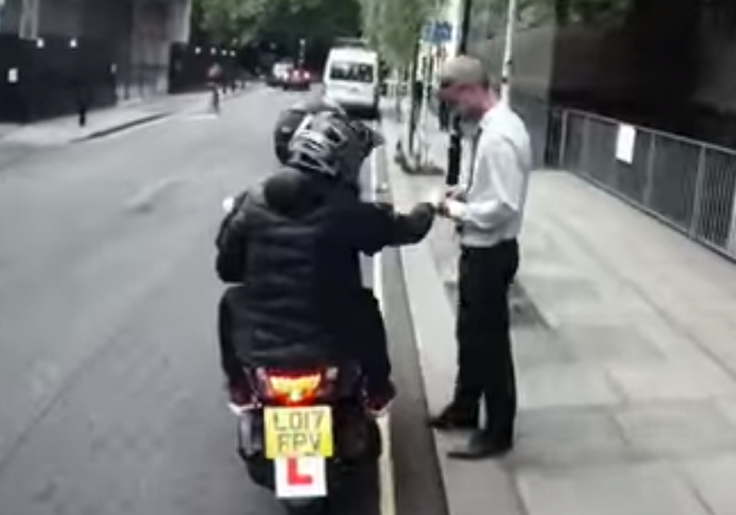 In a statement, the Metropolitan Police said: "Detectives in Croydon are appealing for information and witnesses after two women were robbed at knife-point of their gold necklaces in Thornton Heath.
"The women, aged in their 60s were approached by four men riding on two mopeds in Bensham Manor Road, on Wednesday, 20 September at around 15:09hrs.
"During the incident the pillion passengers got off the bikes and are understood to have threatened the victims with a knife, before snatching a total four gold chains from the victim's necks.
"A male witness, aged in his 70s, attempted to intervene and was thrown to the ground by one of the suspects."
The suspects then made off on the mopeds towards White Horse Road.
London Ambulance Service attended the scene. The witness who intervened was taken to south London hospital with a minor head injury where he was later discharged.
There have been no arrests and enquiries continue.
The suspects are described as three white male and one black male. All four wore motorcycle helmets.
Any witnesses or anyone with any information is asked to call Croydon CID on 101 or contact via Twitter @MetCC.
To give information anonymously contact Crimestoppers on 0800 555 111 or online at crimestoppers-uk.org.