The girlfriend of missing RAF serviceman Corrie Mckeague has revealed she is expecting his child.
April Oliver said she became pregnant during her five-month relationship with Mckeague, 23, who mysteriously vanished while on a night out in Bury St Edmunds, Suffolk, on 24 September.
The 21-year-old personal trainer discovered she was expecting in October, just two weeks after her boyfriend's disappearance.
"I've had to make a massive decision by myself," she told the BBC.
"I was hoping and praying that he'd come back so we could make the decision together."
The pair met on an online dating site, with Oliver describing Mckeague as an "absolute gentleman".
She said she was on holiday in the US when the gunner, based at RAF Honington in Suffolk, went missing – but returned to the UK as soon as she heard the news.
"I had only been there a few days when I got the call from the RAF boys asking if I'd seen him or heard from him, that's when I knew that he was missing. I very quickly got a plane home," she said.
"At that point I wasn't entirely sure what had happened to him. It was completely out of character. I found out I was pregnant a couple of weeks after I came back."
Mckeague's disappearance has baffled friends, family and Suffolk Police.
He had been out drinking in Bury St Edmunds town centre on the night of his disappearance, with CCTV showing him taking a nap in a doorway of a shop before wandering into a loading bay known as the "Horseshoe" at 3.25am.
CCTV cameras didn't show him leaving and he has not been seen since.
Oliver, who is due to give birth in late spring/early summer, said she had mixed emotions after discovering she was pregnant.
"I have the support of my family and friends around me, which is great but it's still not the most pleasant thing to go through on your own – especially when the person you love is missing," she said.
"I've given it a great deal of thought. Obviously there is the element of 'what if he didn't come back?' what would I do, and that was something I had to take a sensible approach to.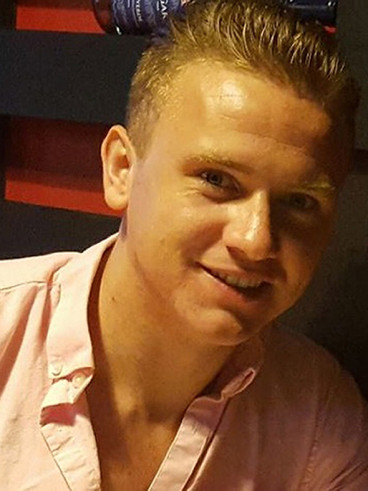 "When I found out, although it was a horrible time and something I wished I could experience with him, it was also something I was excited about.
"Given the stress that I've been under, the pregnancy has gone really well. I'm just doing anything I can not to add to the pressure I'm already under."
Mckeague's mother Nicola Urquhart, a police officer from Dunfermline, said she found herself trying to balance the joy of becoming a grandmother with the continued disappearance of her son.
She told the BBC: "It's something that somebody would normally want to keep quiet to make sure everything's okay but it's getting to the stage now where there are far too many people starting to notice and ask questions.
"That's why we felt now is the time that we do have to let people know so that we can draw a line under it so April can enjoy her pregnancy safely without any additional stress.
"It's incredibly difficult to bounce my head from the excitement of a new baby to what we're actually trying to focus on, which is finding Corrie."
On Friday (6 January), Mckeague's family hired private detectives to help look for clues as to his whereabouts, and to locate his phone.
Signal data showed the phone went to Barton Mills near Mildenhall, indicating it was carried in a vehicle. The movements of the phone matched those of a bin lorry which was later impounded by police, but no clues were found.
---
Anyone with any information should contact Suffolk Police on 101 or alternatively contact Crimestoppers anonymously on 0800 555 111.