Drug kingpin Joaquin "El Chapo" Guzman dodged a massive manhunt and secretly slipped into the US to visit his family, one of his daughters has claimed. Rosa Isela Guzman Ortiz alleged that corrupt Mexican officials helped the world's most wanted man evade US border controls and sneak into California last year.
"My dad deposited the money in a bank account with a lawyer and a while after he came to see the house, his house," the 39-year-old small business owner told The Guardian newspaper. "He came twice."
She added that her 58-year-old father – who became the FBI and Interpol's most wanted person after the May 2011 death of Osama Bin Laden – entered the US state shortly after his October 2015 meeting with the Sean Penn.
Declining to reveal how he evaded capture, she said: "I asked him the same, believe me."
She also did not say how many people knew of his visit or whether he saw his third wife, Emma Coronel. The former beauty queen who has four-year-old twin daughters with the drug lord is a US citizen who lives in California.
However, Ortiz accused Mexican politicians of accepting donations from her father – once described by Forbes magazine as the world's most powerful drug trafficker - in return for turning a blind eye to his prison escapes.
After seven months on the run, El Chapo was recaptured in January 2016 and sent back to the Altiplano maximum security prison – the facility which he escaped from the previous July.
"My dad's escape was an agreement," Ortiz said, adding that the family was considering releasing the names of the politicians and officials who accepted his money, along with copies of the cheques, which she claimed had been delivered on her father's behalf by a lawyer.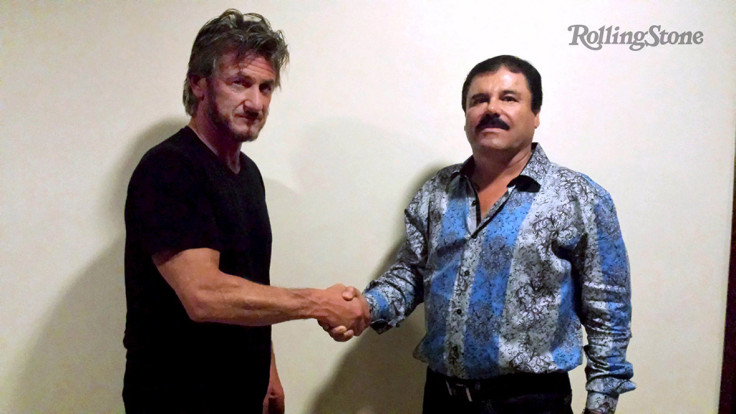 She did not specify how much he had donated, but the Sinaloa cartel, which her father headed, is responsible for an estimated 25% of all illegal drugs that enter the US through Mexico. Enforcement experts estimate, conservatively, that the cartel's annual revenues may exceed $3bn (£2.1bn).
In Sean Penn's Rolling Stone interview, Guzman claimed that he supplied "more heroin, methamphetamine, cocaine and marijuana than anybody else in the world". Penn later claimed he regretted doing the interview.
None of Ortiz's claims could be independently verified and are likely to be disputed by Mexican authorities. Jackie Wasiluk, a spokeswoman for US Border Protection, told Agence France Presse that the agency "has no information that substantiates the claims in news reports".
Guzman 'tortured' for escaping
Family members and lawyers have complained about Guzman's current treatment in prison. They accused the Mexican authorities of depriving him of sleep as a form of torture, during a 4 March protest outside the facility.
Guzman's sister Bernarda, who was among the small group, said her brother was being punished for escaping.
"They are angry because he got out, but anybody, even an irrational animal, would seek their freedom. He didn't hurt anybody," she said.
Guzman's lawyer, Juan Pablo Badillo, added that his client had told him they were turning him into a zombie because they wouldn't let him sleep.
Prison authorities denied any inhumane treatment of Guzman, and said he was in good health.
Officials have beefed up security at the prison over fears the drug lord may try and break out again. In July 2015, Guzman escaped from the facility by riding a modified motorbike through a mile-long tunnel that opened into his shower stall.
The prison's former director and the head of Mexico's federal prison system are among more than 30 people charged with helping him flee.
It was the second time Guzman had managed to escape a maximum security prison. Jailed for murder, drugs and firearms offences in 1993, he became infamous after he hid in a laundry basket to escape from the Puente Grande prison near Guadalajara.