Having made Cortana for Android available to a limited set of testers in July, Microsoft has now made its voice-activated, digital personal assistant available to anyone - at least anyone in the US. The public beta for the app marks a significant step in the on-going battle between Apple, Google and Microsoft to produce the most complete and rounded artificial intelligence (AI) system for smartphones, going up against Siri and Google Now.
Available only in the US for now, the app is expected to roll out across the world in the coming months. Cortana, named after the AI character in Microsoft's Halo video game series, allows users to ask it questions, get it to send messages, open apps and give you reminders about upcoming meetings.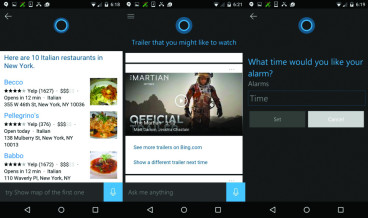 Cortana was launched as an app for Windows Phone smartphones in 2014, but Microsoft has since shown that it will be a key aspect of Windows 10, deeply integrating the service in the new operating system, as well as in its new Edge browser.
Microsoft announced in May that it would be bringing Cortana to Android and iOS though the number of features available on these platforms will be limited compared to the Windows Phone app.
Microsoft's Susan Hendrich says: "The Cortana app can do most of the things Cortana does on your PC or on a Windows phone. With the app, you can manage your hectic lifestyle by setting and getting reminders, searching the web on-the-go, tracking important information such as flight details as well as starting and completing tasks across all of your devices."
One of the key new features in the beta version of the app, is the ability to set Cortana in place of the Google Now homescreen accessed through a long-press of the home button. With Google Now becoming an increasingly important part of the Android interface, this could pose a major problem for Google.
Add to this a report which claims much of the Google Now team has left the company over a failure to prioritise the product under new Google CEO Sundar Pichai. At Google I/O in June, the company announced a major new product called Now on Tap which would allow third-party apps to plug into the Google Now architecture. Last week Microsoft launched an update to its Bing app with almost identical features, just weeks before Google is set to launch Now on Tap.
The Cortana app is available to download now from the Google Play store, but only for those based in the US.