Cost of Living: UK Real Wages Falling Consistently Since 2010
Real wages in the UK have been falling consistently since 2010, the longest such period since at least 1964.
According to the Office for National Statistics (ONS), the fall in worker productivity in 2008 and 2009 may account for the dramatic drop in take-home pay.
The research body explained since the 2008/09 economic downturn, Retail Price Index (RPI) inflation has grown faster than in the 1990s and 2000s, while economic conditions have slowed the rate of nominal wage growth.
The ONS said the move has caused a break from the relationship between the two measurements, when take-home pay used to keep up with RPI inflation [Fig 1].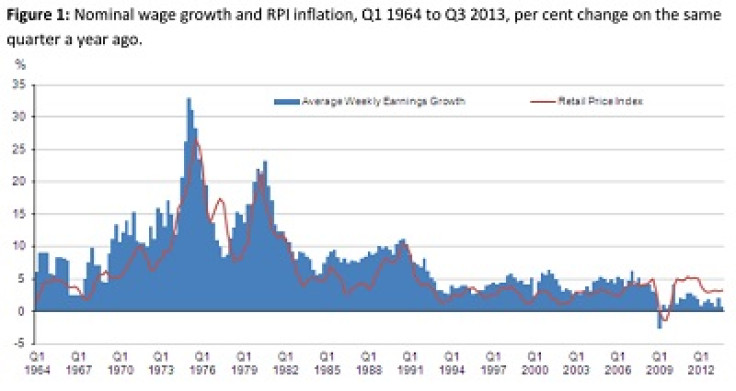 In fact, annual real wage growth averaged 2.9% in the 1970s and 1980s, then roughly halved to 1.5% in the 1990s.
But the rate slowed again to an average of 1.2% in the 2000s, and real wages fell by 2.2% per annum between Q1 2010 and Q2 2013.
The ONS said a number of factors may have contributed to the fall in real wages, but it seemed likely that a "key driver" is the response to the fall in productivity in 2008 and 2009 as output per hour fell faster than real earnings during the economic downturn [Fig 2].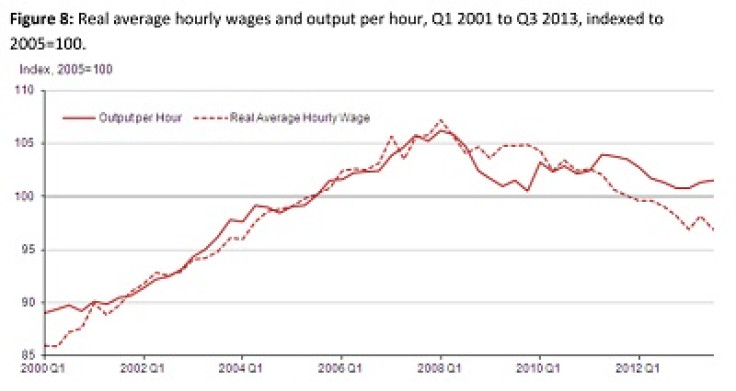 The research body also explained hours worked exerted downwards pressure on real wages growth during the downturn.
The ONS noted the composition of the workforce, particularly the shift from higher paid workers in the manufacturing sector towards lower paid services industries, may account for a small negative effect on real wage growth between January 2009 and June 2010, but this was offset by the reverse effect in the following year.
The study follows research which revealed the average advertised salary across the UK has fallen to a 16 month low, leaving workers more than £2,000 worse off.
According to the UK Job Market Report from Adzuna, the average advertised salary has dropped by 4.1% in the past year to £32,323 in December 2013.
The decline represents a fall in wages of £2,136 in real terms, and marks the third consecutive month in which advertised salaries have fallen.
© Copyright IBTimes 2023. All rights reserved.