It's a downward spiral of doom for The X Factor in terms of ratings. No Dermot O'Leary comeback, revealing Nicole Scherzinger outfit or crazy contestant can help redeem the flailing show as ratings have dropped to a depressing low.
Official figures claim that the fifth round of auditions on Saturday (10 September) averaged 7.4 million viewers, which is down 500,000 on last year's figure.
To put matters into perspective, Mary Berry is trumping Simon Cowell in the popularity stakes as The Great British Bake Off is the most watched show of the year thus far, pulling in a whopping 10 million viewers for Wednesday night's (7 September) episode.
So what is The X Factor's slow and painful death down to? Show bosses felt that returning to enclosed room auditions from a live audience would help, but as recent ratings show, that doesn't seem to be the case. Even the weirder-than-ever contestants aren't maintaining the public's interest – including last week's 'living doll' Sada Vidoo.
Panel concerns
Perhaps the lack of X Factor interest comes down to the intriguing choice of judging panel. Louis Walsh, despite his successful career in the music industry, is only really famed for his work with Westlife, and most recently, er, Jedward.
Former Pussycat Doll Nicole Scherzinger, 38, is far from a relevant pop star (her last single doesn't even spring to mind) and Sharon Osbourne... well, it's not certain why she has a place on the panel at all, to be frank. Last year's series saw relatively current UK stars Cheryl, Radio 1 DJ Nick Grimshaw and Rita Ora sit alongside music mogul Simon Cowell as judges – to only endure plummeting ratings anyway – so the future is looking a tad bleak for the 2016 show.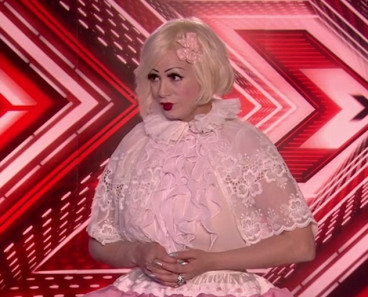 Simon Cowell gone weak?
Completing the panel is of course Simon Cowell – the big, scary music boss who was once known as 'Mr Nasty.' But in recent years, Cowell has indefinitely softened when it comes to many borderline dreadful contestants, and even says 'A BIG FAT YES' to definite 'maybes'. Perhaps it has something to do with becoming a father – the 56-year-old welcomed baby son Eric into the world in 2014 – as he has since become less and less acerbic on his talent shows from The X Factor to America's Got Talent.
And much of the viewing public seem to agree. One Twitter user wrote: "Simon Cowell has gotten soft man he's not as funny as he once was," while another put: "Think fatherhood and old age has sent @SimonCowell deaf and soft #XFactor #WhatWasThat!?"
Another observer said: "Where's nasty @SimonCowell gone? He's being far too nice, where are the cutting scathing comments #XFactor".
Lack of quality
Other factors which could be dragging The X Factor down are the lack of quality contestants taking part, according to the public. "One social media user cited: One episode of X factor auditions left and I can't actually pick one singer worthy of making the live shows, pile of sh*t." Another viewer wrote: "the x factor is such a joke this year, they're putting so many rubbish people through".
The X Factor continues on Saturday (17 September) at 8pm on ITV.