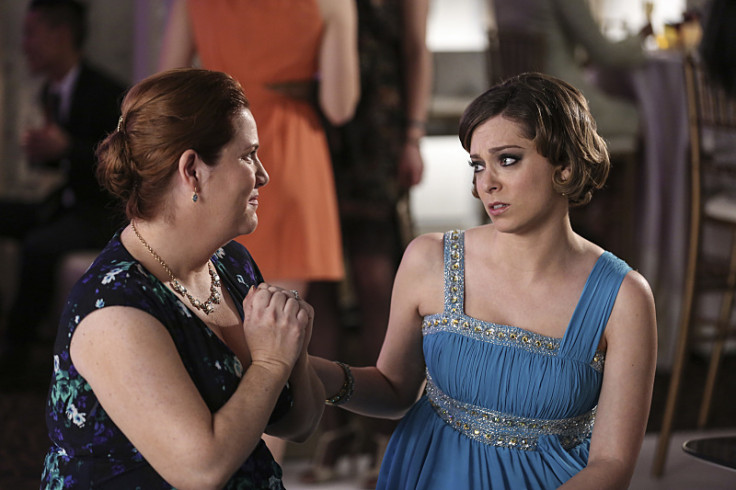 Rebecca Bunch will struggle to maintain her relationship with Greg Serrano, Josh Chan and Paula Proctor in the season 1 finale of Crazy Ex-Girlfriend. Episode 18 is titled, Paula Needs To Get Over Josh! It will air on 18 April at 8pm ET on The CW.
The official synopsis of the episode reads as follows:
In the previous episode, Rebecca gave Greg a chance, after pining over Josh throughout season 1. The episode featured numerous steamy scenes between Rebecca and Greg, which resulted in the former getting urinary tract infection (UTI). The chapter also touched upon stereotypes in a relationship, culminating in a major discussion on "who has the upper hand in the relationship".
Meanwhile, Josh is struggled to accept the fact that Rebecca has moved on and his frustration is seen clearly in an anger-fuelled Karate dance sequence. Moreover, Paula – who has been Rebecca's best friend ever since she moved to West Covina – was unable to digest the fact that her best friend is over Josh. Also, Rebecca lied to Paula about having sex with Greg.
To reconnect with Paula, Bunch helped her prepare a Pecan pie at a Pie competition, and at the event the triple life she lead came crashing down, as she collapseed and was rushed to the hospital. Turns out the UTI infection had advanced to her kidneys. Greg rushed to the hospital, and so did Josh, and Rebecca finally admitted that she was having sex with Greg. Paula clearly feels betrayed, and Josh, who has started having feelings for her, was devastated.
The promo for the upcoming episode shows Rebecca at Josh's sister's wedding with Greg as her date. The voice-over says, "A night filled with tender romance, life changing decisions, broadway superstar Lea Salonga and some truly epic moments." Greg and Rebecca came to the party as a couple, as Josh questions her, "Are you sure Greg is really what you want?"
The episode synopsis teases that Rebecca's world will be "turned upside down" at Jayma's wedding. Who do you think Rebecca should be with –Greg or Josh? Let us know your opinion in the comment section below.