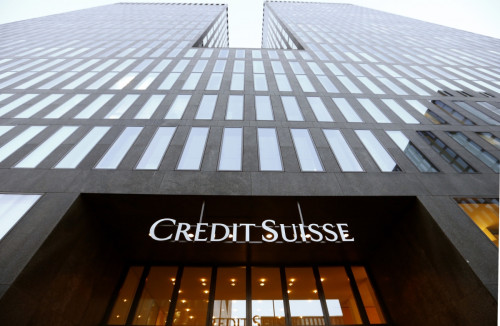 Credit Suisse has revealed that its profits took a hit in the fourth quarter last year after the Swiss banking giant was stung by over half a billion Swiss francs worth of litigation charges.
In Credit Suisse's latest financial results statement, the group revealed that it took a combined 514m Swiss francs (£348m, €420m, $568m) hit on its balance sheet, after stumping up 339m Swiss franc provision over mortgage litigation at its investment bank and a 175m Swiss franc provision relating to a US probe into hidden offshore accounts in Switzerland.
As a result, Credit Suisse's fourth quarter net profit rose marginally to 267m Swiss francs, from 263m Swiss francs the previous year.
Unfortunately, the fourth quarter profit amount was at the lower end of the forecast scale.
According to 11 analysts polled by Reuters, experts gave an average fourth quarter profit forecast of 448m Swiss francs.
On the 23 January, reports surfaced that Credit Suisse is on the cusp of reaching a $800m settlement with US authorities, relating to its part in helping American taxpayers evade the Internal Revenue Service (IRS) by hiding their cash in Switzerland's banking system.
Talks are allegedly in their early stages but the deal looks set to trump a $780m settlement between Swiss bank UBS and US authorities over the same tax evasion issue.
It would be the biggest fine so far.
Meanwhile, a number of banks around the world have settled with US authorities over the mortgage fraud cases and asset backed securities sales.
On 5 February, JPMorgan paid $614m to the US government, in a bid to settle a raft of legal claims against the Wall Street giant, after it admitted that it had committed mass mortgage fraud.
According to court documents, JPM defrauded federal agencies by underwriting sub-standard mortgage loans and has agreed to pay over half a billion dollars to settle the cases.
On the same day, Morgan Stanley announced that it will pay $1.25bn to the US regulator for Fannie Mae and Freddie Mac related mortgage-backed securities (MBS) and will add $150m to its legal reserves as a result of the settlement with the Federal Housing Finance Agency (FHFA).
MBS, also known as asset-backed securities (ABS), are financial products backed by a loan, lease or receivables against assets other than real estate.
They were largely to blame for the credit crisis of 2007 and 2008.