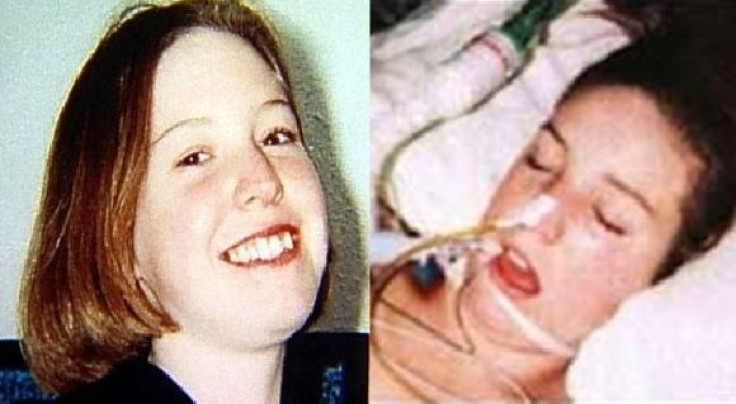 An unidentified crime boss allegedly caught on a police tape offering to murder the "Essex Boy" drug dealers who sold the ecstasy pills that killed teenager Leah Betts – three weeks before they were found shot dead.
The chilling proposition was said to have been made to a retired detective who was suspected of corruption, and caught on a covert recording during a bugging operation by Scotland Yard. The revelation comes from a leaked secret transcript of a conversation between an unidentified retired police officer and the unnamed crime lord.
A secret meeting on the day Betts died in hospital saw the underworld figure tell the police officer he could "take out" the suppliers of the ecstasy pill, a confidential 2002 Scotland Yard intelligence report seen by The Sunday Mirror claims.
An extract in the report states: "On 16th November 1995 [ex-officer named]… met [crime lord named] who offered the hand of friendship, by offering to take out the supplier of the drugs to Leah Betts, who died of an overdose."
Betts collapsed after taking a single ecstasy tablet on her 18th birthday and drinking seven litres of water in just 90 minutes, causing swelling in her brain.
Her death in 1995 sparked a national outcry at the time when shocking pictures, released by her policeman father and mother, showed her in hospital in a coma.
Within three weeks of the gangster's "hit" offer, three drug dealers were found shot dead in their 4x4 Range Rover on a secluded farm track in Rettendon, Essex.
The murdered trio – Tony Tucker, 38, Pat Tate, 37 and Craig Rolfe, 26 – were said to have controlled the supply of ecstasy in the Basildon nightclub where Betts's tablet was bought.
But the question of who was responsible for the killings has remained a mystery.
Known as the "Rettendon Two", engineer Michael Steele, 74, and mechanic Jack Whomes, 55, have maintained their innocence since being jailed for life for the murders in 1998.
Their lawyer says evidence from "supergrass" and convicted fraudster Darren Nicholls, who claimed to be their getaway driver, was fabricated.
Now details of the police recording – forming part of the Met's Tiberius report into police corruption – is expected to form part of wrongful conviction legal bids by the two men, The Sunday Mirror reported.
The report states that because of the covert and sensitive nature of the surveillance, none of the intelligence could be used as evidence and no arrests were made.
The retired detective mentioned in the Tiberius report, who cannot be named for legal reasons, was at the time suspected of passing confidential information to the gangland boss for over a year.
He told the Sunday Mirror he knew the crime boss, but said: "I certainly haven't had anything to do with any skullduggery."
A Scotland Yard spokeswoman told the newspaper: "We are not prepared to discuss publicly the details of Operation Tiberius, produced in 2002. It is a secret document."