Shocking images of the moment Kim Jong-nam was assassinated in a Malaysian airport have emerged for the first time.
The half-brother of North Korea's dictator Kim Jong-un was poisoned on 13 February, allegedly by two women believed to be acting on behalf of the rogue state.
In the picture published on the front cover of the New Straits Times on Saturday (18 February), Jong-nam can be seen unconscious and slumped in an airport, moments after the lethal substance was deployed.
Conflicting reports have emerged about what was used to murder the 46-year-old with some suggesting it was poison needles, while others say it was a spray or a cloth.
Four people have so far been arrested in connection with the death.
It was originally thought the two women involved were North Korean spies, but it emerged on Saturday that at least one of the women – Sisi Asiyah, 25, from Indonesia – believed they were taking part in a television prank, though this has not been officially confirmed.
Indonesia's national police chief, Tito Karnavian, told reporters in Indonesia's Aceh province that Asiyah was paid to be involved in the pranks.
"Such an action was done three or four times and they were given a few dollars for it, and with the last target, Kim Jong-nam, allegedly there were dangerous materials in the sprayer," Karnavian said, AP reported. "She was not aware that it was an assassination attempt by alleged foreign agents."
The other woman has been identified as Doan Thi Huong, 29, from Vietnam.
Investigators are said to be more concerned with a group of North Korean men who are believed to be the masterminds behind the assassination and duped the women into taking part.
Malaysian police have released CCTV images of four men who are said to have been tracking Jong-nam's movements for over a year to establish his travel patterns.
WARNING: THE FOLLOWING IMAGE MAY BE DISTRESSING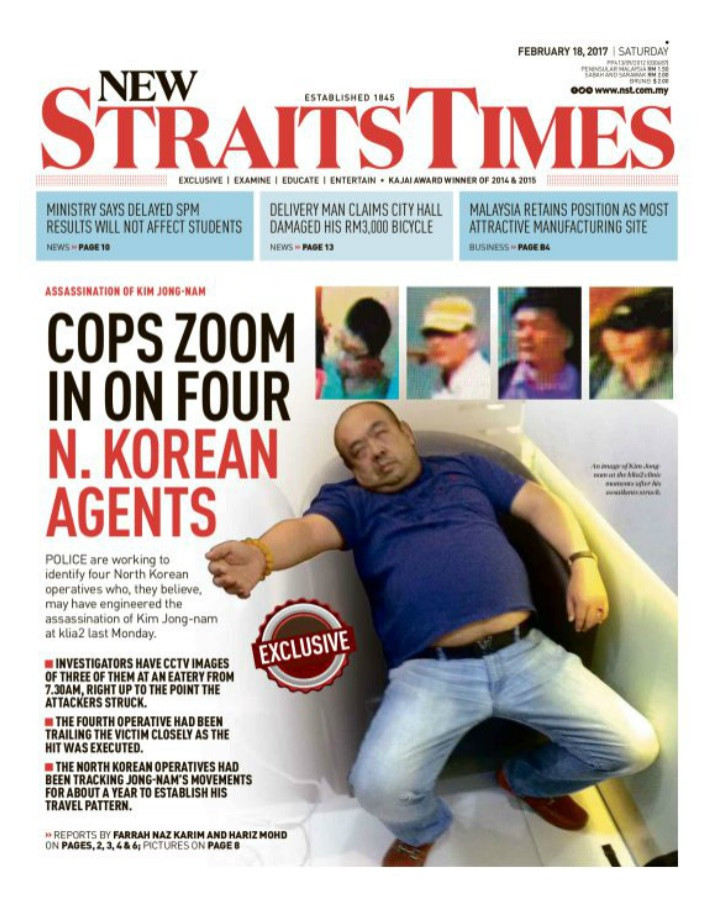 Jong-nam was on his way to check in for a low-cost flight to Macau, where he had a home and a family.
Malaysian authorities have also defended their decision not to release Jong-nam's body after condemnation from North Korea.
The country's Health Minister Dr Subramaniam Sathasivam told New Straits Times reporters: "North Korea can reject or show disapproval, but we are doing things according to our law. Something happened in our country. We don't do it according to their law.
"If murder or death [occurs] in our country, there is a process we go through. There is no shortcut in the forensic study as far as we are concerned."
Sathasivam added that the second toxicology report, after the first was deemed inconclusive, could take as long as two weeks to complete.