Three MPs of Ukraine's far-right Svoboda party have attacked the head of state TV company and forced him to resign.
Dramatic footage showed ultranationalists beating Aleksandr Panteleymonov, the acting president of the National Television Company of Ukraine, over the public broadcasting of Vladimir Putin and pro-Russian Crimea leaders signing the annexation treaty.
Panteleymonov was accused of serving Putin and being "Moscow trash". The mob then forced him to sign a letter of resignation.
One attacker, ponytail wearing MP Igor Myroshnychenko, is shown along with other two Svoboda members pushing Panteleymonov, dragging him and pulling his tie to restrain him to a chair.
Ukraine's prime minister called the inicident "unacceptable for a democratic society".
National Television Company (NTU) is state-run and operates Ukraine's largest public broadcaster, First National Channel.
During the Maidan anti-government protests, the First National Channel was seen as supportive of then president Viktor Yanukovich and biased in its coverage.
Ultra-nationalist Svoboda is one of the five major parties in the country. It has 40 deputies and five members holding positions in Ukraine's government.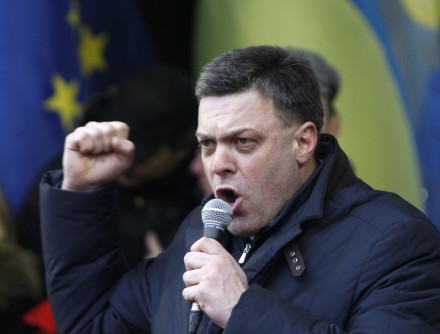 Party leader Oleh Tyagnybok was kicked out of parliament in 2004 for saying that Ukraine was ruled by "Jewish-Russian mafia".
He was at the forefront of Maidan mass protests sparked by Yanukovich's decision to spurn a potentially historic trade deal with the EU, in a move that has been widely interpreted as kowtowing to Russian pressure.
Svoboda members do not represent the majority of the protesters but have often led the action.
Ultranationalism in Ukraine traces its roots to World War II resistance against Soviet occupation, when partisans struck a loose alliance with the Nazis. Tyagnybok took the reins of the party in February 2004, when it was still called the Social-National Party of Ukraine and had a swastika-like logo.
He has marginalised neo-Nazis among party ranks, while keeping up the anti-Semitic rhetoric at the same time.
Tyagnybok has long denied Svoboda is anti-Semitic and xenophobic. It was, he said, "simply and only a pro-Ukrainian party".