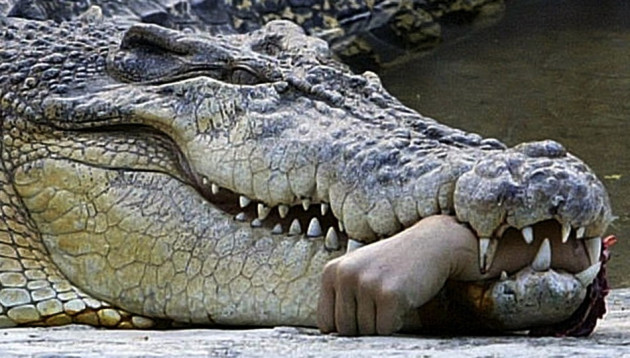 A man has been found half-eaten by crocodiles in a Philippine farm that breeds the reptiles, with the victim's head, arms and one leg missing.
Sorbelo Sajona's corpse was discovered on Friday at the breeding ground run by J.K. Mercado and Sons Agricultural Enterprises.
The 57-year-old jobless victim was found in a pond used by the crocodiles. Authorities do not know how Sajona got into the privately-owned farm.
Lowell Neniza, a police officer, said: "There was no evidence of foul-play, but the farm security guards told us they were clueless on how he got into the pond."
The victim lived a few miles away in the Luna village near the town of Kapalong. He was last seen the on Thursday at the local cemetery. He was drunk and was visiting the graves of his relatives, like many other locals who were celebrating All Saints' Day.
Police have not yet confirmed how Sajona died and are yet to say if he was killed by crocodile bites.
According to the Philippine Star, inspector Zosimo Jose, deputy town police chief, said Sonajo may have fell into the farm and was attacked by the crocodiles, which can grow to reach over four metres in length.
He said: "Parts of (the victim's) head was ripped away and the arms and right leg were missing, possibly eaten by the crocodiles."
J.K. Mercado and Sons Agricultural Enterprises is yet to issue a statement about the incident, but Lerio Gaceta, admin officer at the company, said there were 2,800 saltwater crocodiles on the farm.
The farm exports the crocodile's skins and sells their meat to local restaurants. It was founded in 1971 but only entered the crocodile business in 2000.