Crown Princess Victoria of Sweden did not have any ordinary 40th birthday celebration.
The royal mother-of-two began her birthday weekend celebrations by having a thanksgiving service in Stockholm on Friday (14 July). The posh princess wore a stunning pale pink dress with delicate butterfly details.
Victoria's daughter Princess Estelle complemented her mother's look, wearing butterfly hair clips in two braids. Meanwhile, one-year-old Prince Oscar matched his father by looking dapper in blue.
On Saturday (15 July), the royal family met large crowds at Solliden Palace in Borgholm. Victoria's two children, Princess Estelle and Prince Oscar, delighted members of the public with little Estelle collecting gifts for her mother's birthday.
The princess dazzled in a beautiful sky-blue shirt dress complete with a bow cinching her waist. Daughter Estelle and son Oscar also donned adorable pale-blue outfits, while husband, Prince Daniel, closed out the family's look by sporting a blue button down and dark blue trousers.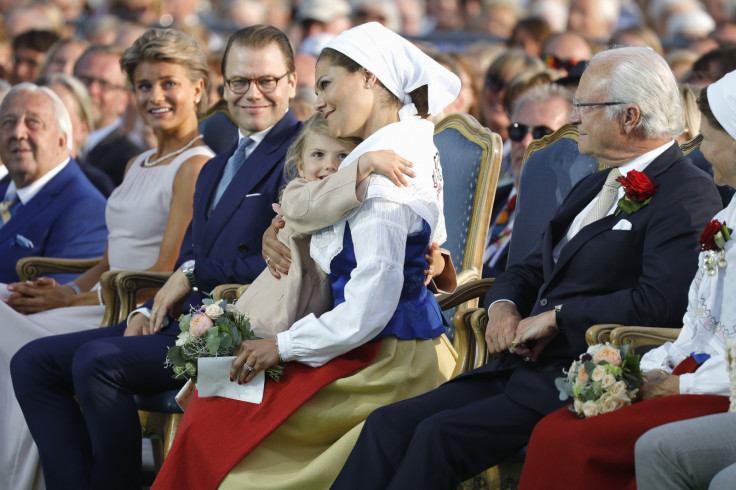 Later, Victoria donned a colourful traditional Swedish dress during the celebrations in Borgholm in her honour. Her mother, Queen Silvia, also wore the outfit complete with flowing white blouse, blue vest, gold skirt and red apron.
Ahead of her birthday, the 40-year-old princess opened up about her struggles with anxiety, dyslexia and anorexia. Victoria no longer suffers from the eating disorder, but said she continues to deal with anxiety.
"The performance anxiety I had is still there," she said in interviews. "I've been given different kinds of tools and learned how to manage it."