Four days after its official naming by HM The Queen, the cruise ship Britannia has departed Southampton on its maiden voyage to Gibraltar.
330m long, with a 94m Union flag on its bow, the 141,000-tonne Britannia was built in Italy at a cost of £500m and is the largest cruiser built for the British holiday market.
When the Queen officially christened "the ship for the nation" on Tuesday (10 March) attended by Prince Philip it was the fifth time she had performed the duty during her reign. The ship bears the same name as the former royal yacht which was decommissioned in 1997. Two previous P&O boats were also called Britannia.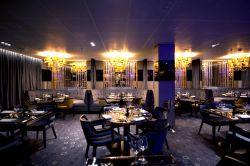 On this first voyage the 84,000 horsepower boat, which can accommodate up to 3,600 passengers and employs up to 1,500 crew, will also visit Barcelona, Monte Carlo, Rome, Ajaccio and Cadiz before returning to Southampton. During the summer it will be based in Southampton, during the winter in the Caribbean. In its first year the boat is scheduled to visit 57 ports in 31 countries.
The Britannia has plenty of facilities for passengers, with four swimming pools, a 936-seater theatre, 15 passenger decks, spa, library, gym, children's play areas, sports arena, a variety of shops and a three-tier atrium.
As well as 13 restaurants where James Martin and Marco Pierre White will prepare meals, the boat's 13 bars stock 20 types of gin and 70 beers. There's even a cookery school aboard, as well as original works of art on British themes. As the ship left port, operator P&O tweeted: "And she's off! We've set sail! Now, time to settle in to life on board!"
Although vast, the Britannia is not the world's largest cruise liner. That honour goes to the Oasis Of The Seas which weighs 225,282 tonnes.