With a name that stands for 'designing the opposite of a rectangle', the Washington based start-up dToor is looking to bring The Cyrcle Phone, a rounded flip-phone, to a potential female market who it believes are searching for a "more natural and sensual form" from their phones.
While we have seen phones with curved edges, phone-tablet hybrids and now with even flexible phones on their way to the market, the common denominator despite their differences has always been their basic shapes: rectangles.
The Cyrcle aims to change all that, putting aside what the company describes as 'brick' phones and instead creating a mobile phone that has the undeniable (and slightly bizarre) aesthetic of a compact makeup case. Although what true feminine-forward thinkers will make of this will be interesting — perhaps they'll also ask whether it comes in pink too.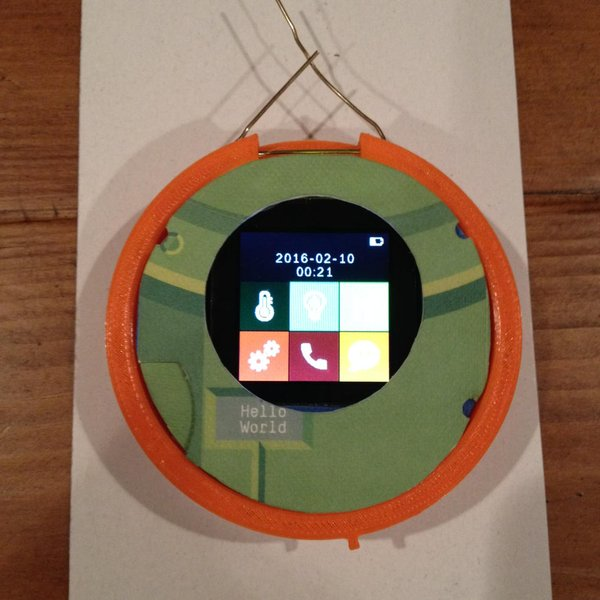 "The rectangular shape does not serve the needs of women in many ways," the dToor website explains. "First, truly feminine clothing does not normally have pockets, and if it does, the pockets are frequently too small or not shaped to accept a large rectangular object. Second, women need to be connected as women love to talk, text, and communicate through any means available on smartphones with their family, friends, and lovers."
Presented to the public at Mobile World Congress 2016 (MWC), The Cyrcle Phone prototype showcased at the event was moulded using 3D printing technology and contains a Seeed RePhone Kit, as well as open source components so that "non-rectangular", "feminine-forward" advocates can adapt the phone with modular elements should they choose to do so.
Why the circular design? Practically, the Cyrcle is designed to fit comfortably between the head and shoulder, as dToor believes the flip-open ergonomics will assist women making longer phone calls for "hours, not minutes". Equally, the company believes that the circular form will allow for simpler handbag storage, while the phone itself is built to only alert its owner to priority messages from important contacts that you can pre-set on the phone.
According to a CNET report, the first wave of commercial designs will be put on the popular crowd-funding platform Kickstarter in August 2016 starting at $100 (£72, €92), however this version will be a basic 2G model. A 4G version is intended for August 2017, with the eventual aim of creating a female-friendly Android companion with dual edge-to-edge screens.
If you would like to receive updates on The Cyrcle Phone then you can sign up to the mailing list here, but be warned, you must leave your rectangular-tendencies at the door and answer tough questions such as "what bothers you most about rectangular devices?" and "would circles, triangles, ovals, or other shapes be better?"