A Czech zoo is sawing off the horns of 21 rhinos as a preemptive measure against poachers following the killing of a white rhinoceros in a zoo near Paris earlier this month as his horn was sawed off and stolen for sale in the surging ivory market. Management at Dvur Kralove Zoo say the precaution is necessary and won't hurt the animals.
On Monday (20 March) vets cut the horns off of Pamir, a male white rhino while he lay under anaesthetic. The operation was a success and will be repeated across the rest of the herd, which includes both black and white rhinoceroses.
Zookeepers say that the procedures are necessary to avoid a repeat of an incident on the 8 March in a zoo near Paris when Vince the rhino was shot three times in the head by poachers who then removed and made away with his horn.
"The dehorned rhino is definitely a better option than the dead rhino," said Premysl Rabas, Director of Dvur Kralove Zoo.
"The decision to remove rhino horns was not made easily at all. However, the risk that the rhinos currently face not only in the wild but even in zoos is too high and the safety of the animals is our first concern."
Rhino horns consist mostly of keratin, much like human hair and fingernails, and it does not cause them pain to cut through it. However the animals are drugged beforehand so that vets can operate on them safely.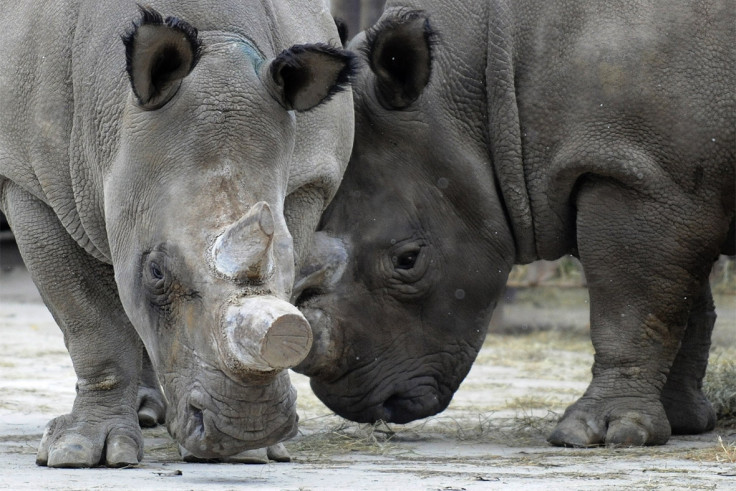 "Pamir was anaesthetized. The whole procedure was led by our experienced veterinarian with the team of experts of Dvur Kralove Zoo," said Dvur Kralove Zoo rhino curator Jiri Hruby. "The intervention took less than one hour and it was performed without any complications."
Vince's murder was not a surprise within zoological communities. For years experts have been warning that organised poachers pose a threat to captive animals in European cities. Museums have also been targeted for collections of rhino horns.
Their black market value derives from a mistaken belief, prevalent in China and neighbouring countries, that they have medicinal qualities despite their being no scientific foundation for this view.
"Only the small change in the lifestyle of East Asian population could help to save rhinos from extinction," said Jan Stejskal, Director of International Projects of Dvur Kralove Zoo. And in fact, we would not have to make this radical decision to cut off their horns then."