The US Army Corps of Engineers has informed Congress it will grant the permit needed to finish construction of the Dakota Access Pipeline.
The easement granted by the army will allow the pipeline to go under the Missouri River, giving it a permit to go into private land.
The corps had previously decided to search for alternative routes after the Standing Rock Sioux tribe claimed the pipeline would desecrate their sacred burial sites and contaminate water.
US President Donald Trump on 24 January signed an executive order advancing construction of the 1,172-mile (1,890 km) pipeline.
Acting Secretary of the Army Robert Speer said in a statement seen by Fox News: "Today's announcement will allow for the final step, which is granting of the easement.
"Once that it done, we will have completed all the tasks in the Presidential Memorandum of January 24, 2017."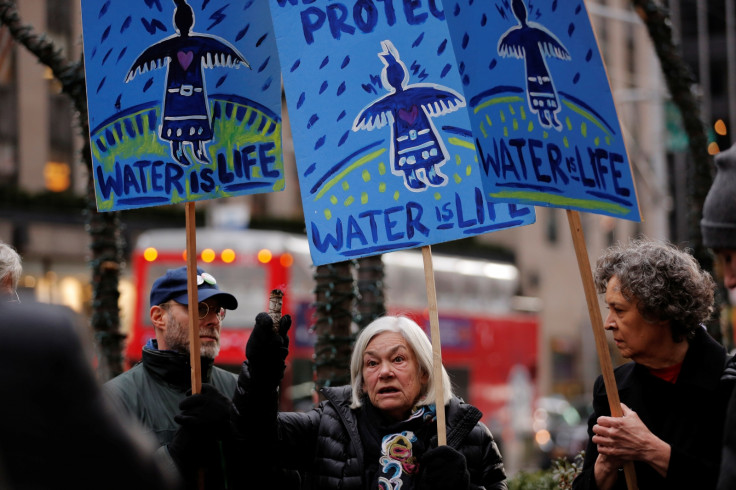 Sharing the news on its Facebook page, Sacred Stone Camp wrote: "The Army Corps is skipping the 14-day notification period and intend to grant the easement needed to drill no earlier than 24 hours after delivery of their Notice of Intent.
"Further threats to the water are clearly imminent. When the easement is granted, we're asking for mass-distributed actions in support of water protectors and the SRST tribe who will file for temporary restraining order and an injunction to halt construction, but as we've seen before those filings will not stop the machines from digging into Unci Maka, Mother Earth."
Environmental groups and water protectors at Standing Rock are expected to continue fighting against construction of the pipeline, issuing a call to arms for those ready to help fight construction.
Jan Hasselman, a lawyer for environmental group Earth Justice, told The Washington Post: "The Obama administration correctly found that the Tribe's treaty rights needed to be respected, and that the easement should not be granted without further review and consideration of alternative crossing locations.
"Trump's reversal of that decision continues a historic pattern of broken promises to Indian Tribes and violation of Treaty rights. They will be held accountable in court."