Mainstream politicians are ignoring the pleas of water protectors protesting the controversial Dakota Access Pipeline, demonstrators claim.
A group of water protectors picketed a Hillary Clinton rally in Arizona on 2 November, stating they were there to tell the Democrat 'we can't be ignored'.
The group first led a march through the streets of Phoenix, which culminated at the political rally at Arizona State University, where the group's chants were heard inside the Clinton rally.
"We came here because we have asked Hillary we have asked Donald we have asked President Obama 'somebody stand up with us, somebody help us', because nobody is helping us," water protector Kim Berlie told IBTimes UK at the rally.
"What we are doing is standing in solidarity for the hardships that our fellow warrior water protectors are facing up at Standing Rock, so we are here today to bring awareness.
"These candidates – they are not willing to stand up for us now – what makes us think they are going to stand up for us when they get in to office?" she added.
Protesters have spent months trying to block the 1,172-mile (1,890 km) pipeline being built by a group of companies led by Energy Transfer Partners, L.P. The pipeline will transport crude oil across four states if it is constructed.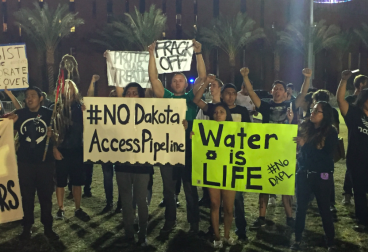 But the pipeline has proved to be controversial, given it is being built on land that is sacred to the Standing Rock Sioux tribe, and could contaminate the local water supply.
And despite violent clashes between authorities and water protectors over the past few months, Clinton and her GOP rival Donald Trump have avoided issuing substantial comments on the subject – prompting protesters to claim the issue is being avoided by mainstream politicians.
In contrast, both green candidate Jill Stein and Democrat former presidential hopeful Bernie Sanders have been openly critical of the pipeline project.
"Bernie Sanders has our back, Jill Stein has been to our camp – she got a felony for vandalism," added Rose, whose family live on a reservation down the river from Standing Rock.
"But nobody is covering this – they're trying to brush it under the rug, but we are not going to be brushed under the rug.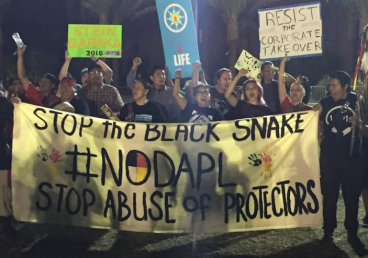 "Our people do not deserve to be put in dog kennels, to have numbers written on their arms – these are things that are going on, no one wants to cover it, that's why we are here.
"We don't get an answer," Berlie continued. "Obama says 'we are going to let it play itself out'. Bernie has been there, Jill Stein has been there – these are the people who are going to make the difference for us – and we can write that in.
"We need a president who is going to stand for us right now. If they don't stand with us right now, they are not going to stand with us when they are in office."
The demonstrators' presence at the rally received a lot of attention, with some members of the crowd joining their group and taking pictures of the peaceful protest as they left the Clinton crowd.
"I just heard Hillary right now say she wants to move towards a clean renewable energy source," explained a water protector at the rally who did not want to be named.
"And she disrespects us saying she doesn't stand with standing rock, so if she does want to do clean climate change she's got to stand with Standing Rock, she's got to stand with us.
"Trump is already invested in there," he added. " And that is why we don't allow Trump supporters. Donald Trump is invested in there so he is not welcome here."
Demonstrators told IBTimes UK they were concerned the protestors were facing violence, also carrying banners that read 'stop abuse of protectors'.
"We are fighting a billion dollar pipeline here," Berlie added. "We are doing it with prayers we are doing it with support and we have to raise awareness."
Representatives for Hillary Clinton and Donald Trump did not immediately respond to IBTimes Uk's request for comment.