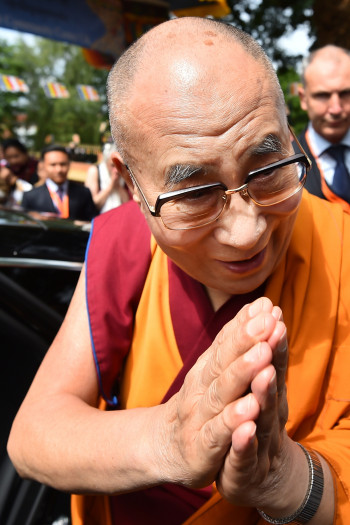 Six hundred protesters have descended on Aldershot to demonstrate against the Dalai Lama as he opens a community centre and addresses British Buddhists.
The Buddhist leader, who arrived in the Hampshire town this morning, is due to open a Nepalese Buddhist community centre and then speak to a gathering of Buddhists from the UK and overseas in an adjacent football stadium.
However, the Dalai Lama's presence in Aldershot is being protested by Shugden Buddhists, as has been the case with his visits across the UK over the past week, and the International Shugden Community (ISC).
Hampshire Constabulary, which is policing the event, told IBTimes UK that roughly 600 protesters were present outside Aldershot Town Football Club. Graeme Barbour, a spokesman for the police force, described the demonstrations as "loud but peaceful".
The ISC has used the Dalai Lama's visit to protest the actions of the Buddhist leader saying he has divided the Buddhist faith and imposed a policy of discrimination among Tibetan exiles in countries like India.
The Dalai Lama passed through the throngs of Shugden who were holding placards and banners and chanting slogans like "False Dalai Lama stop lying" and "False Dalai Lama give religious freedom".
Rachael Jeffrey, a spokeswoman for the ISC, told IBTimes UK: "We have come from all over the country, in fact people have come from Germany and Switzerland. We have Tibetans here from Germany and we have Tibetans from American and Canada, definitely all over the United Kingdom because people are very passionate about this issue. All of us accusing him of religious persecution and human rights violations.
"We have no issue with anyone but the Dalai Lama, we have no issue with any other kind of Buddhists. There is actually no quarrel between Buddhists," she said, adding that the protesters had observed a minute's silence for the victims of Nepal's April earthquake.
Jeffrey claimed the Dalai Lama had "instigated a system of discrimination in his community and is engendering an atmosphere of hatred against this group, this faith of which there are a million members worldwide".
The Dalai Lama is due to speak to thousands of Buddhists in the Aldershot stadium.
A group of 10 UK Buddhist organisations accused the ISC of being misleading in a statement. "We are very concerned about the protesters' aggressive, misleading and unethical behaviour and the false image being presented to the public.
"The UK Buddhist Organisations signed up to this statement to express their respect and support for His Holiness' stance on promoting wider religious harmony between the religious traditions and on promoting mutual respect and admiration between the Buddhist traditions." the statement added.