Prince William in China: Duke of Cambridge lands in Beijing during his royal tour of the Far East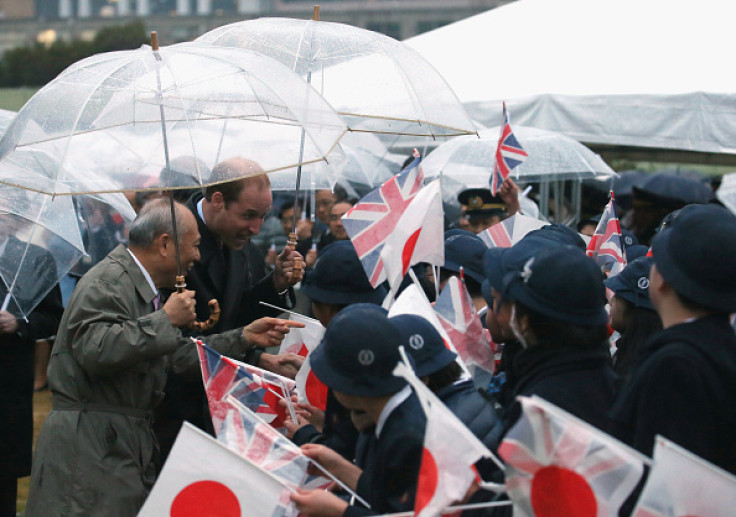 Prince William touches down in Beijing on 1 March to commence a high-profile visit widely viewed as the first major test of his diplomatic skills.
The Duke of Cambridge will be the first senior British royal to visit China since the Queen and Prince Philip visited in 1986. His visit is part of a seven-day tour of the Far East, which saw him don samurai gear in Japan.
As well as focusing on trade, British business and economic and cultural ties with China, the Prince has to navigate a tricky diplomatic path littered with the high-profile gaffes of his own family.
Prince Charles, William's father, described the country's leaders as "appalling old waxworks", according to a leaked private diary, according to an article in the Daily Mail.
Charles has never visited China, but enraged Beijing by hosting Tibetan spiritual leader, the Dalai Lama - viewed by China as a dangerous separatist - at Clarence House in 2012.
The Daily Mail also reported how Charles' father, Prince Philip, famously described the capital as "ghastly" when he visited in 1986 – before going one step further and telling a group of British students there: "If you stay here much longer, you'll all be slitty-eyed."
William will also need to avoid discussing China's human rights record, British Prime Minister David Cameron's 2012 meeting with the Dalai Lama, or the group of British MPs who called for full democratic elections in the former British colony of Hong Kong and were accused of "interfering in China's domestic affairs".
Instead, his official schedule shows he'll be keeping busy with a packed three-day itinerary, kicking off his trip with a visit to the Forbidden City and a meeting with President Xi Jinping. He will then travel to Shanghai and officially open the GREAT Festival of Creativity in Shanghai on 2 March. This initiative is part of the 2015 UK-China Year of Cultural Exchange, billed as a "flagship year of cultural exchange between the two countries".
The keen environmentalist will then travel to an elephant sanctuary in Yunnan Province on 4 March, in order to tackle China's role in ending the illegal wildlife trade. He will visit an elephant sanctuary to learn about China's conservation efforts, before concluding his tour with a speech at a Wildlife and Conservation Conference.
The Chinese ivory trade is a significant factor in the extinction of the African elephant population.
On 26 February China announced a one-year ban on the import of ivory carvings. The announcement was slammed by the UK-based Environmental Investigation Agency, which called it "window-dressing".
"It is unfortunate that [Beijing has] not announced a much-needed policy change by banning all domestic trade in ivory — this is the policy change that could actually make a difference for elephants in Africa," the group's wildlife campaigner Shruti Suresh said.
© Copyright IBTimes 2023. All rights reserved.