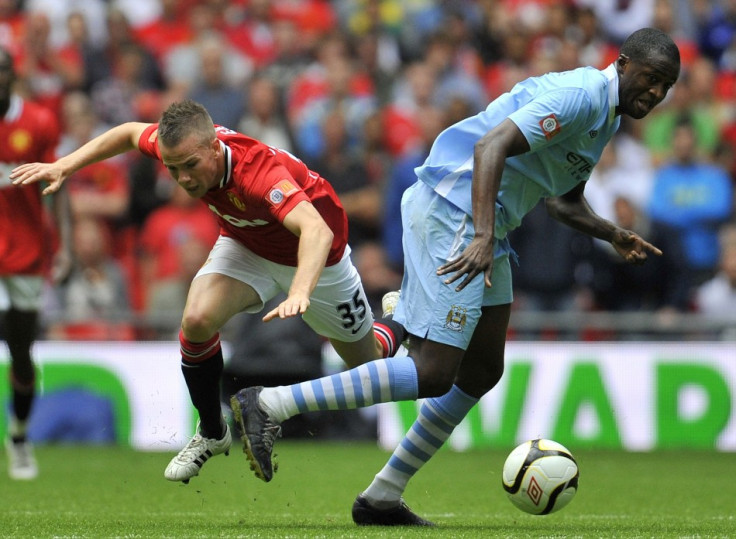 Swansea City striker Danny Graham believes his teammates will have to be particularly watchful of Manchester United midfielder Tom Cleverley when the defending Premier League champions travel to the Liberty Stadium for the late Saturday kick-off.
It is a measure of Cleverley's superb start to life as a first-team regular for Manchester United that Premier League opposition are already earmarking the English midfielder as one of Sir Alex Ferguson's most potent threats, yet the Swansea City star knows the 22-year-old from their days together at Watford.
Cleverley and Graham were briefly teammates together at Watford, during the former's loan spell from Manchester United in 2009.
The Old Trafford youngster was the Championship club's Player of the Year during the season he spent with the Hornets and Graham believes he was always destined for great things, which is he subsequently showing at Manchester United.
While Graham, who has been integral to The Swans excellent start to the season, acknowledges Cleverley as a threat, the 26-year-old believes they will have to be wary of all of Manchester United's players as they bid to improve on their current Premier League standing of tenth position.
"United have bags of talent in every area of the pitch," Graham told Swansea City's official website.
"You look at Rooney, Nani, Hernandez, Valencia etc - all top players. But if you take your eye off someone like Tom Cleverley, then he will be very dangerous and clinical.
"I obviously know him very well from my Watford days - he made a big impact there and showed his quality.
"He scored a lot of goals in midfield and after that stint at Watford - and another at Wigan - he has settled into the United team and he's being mentioned with the England squad now too."
Speaking about Swansea's introduction to life in the Premier League, Graham suggests their recent performances against some of the league's top sides should provide plenty of encouragement when they welcome Sir Alex Ferguson's side to the Liberty Stadium.
"We've played against Manchester City, Arsenal, Chelsea and Liverpool already this season, so we have had good experience of going up against the big teams," Graham added.
"Playing Manchester United is right up there among the toughest - if not the toughest - test we will face this season.
"I've mentioned the attacking players, but at the back they Rio Ferdinand and Nemanja Vidic, who have been around for years playing at the highest level while they also have Phil Jones, who has been really impressive for club and country.
"So it is going to be very tough, but we know everyone is beatable in this league.
"It wasn't long ago that Leeds beat United at Old Trafford in the FA Cup - so it can be done.
"We are settling into this league more and more as every game passes. We made a statement by going to Liverpool and playing the way we did at Anfield.
"That performance, and the fact we were clapped off the pitch by the Liverpool fans, will have made everyone sit up and take notice of us a bit more."
Graham has already scored four goals this season and has been a focal point of Brendan Rodgers' well drilled side. Not only have they made a seamless transition from the Championship to the Premier League, they have done so playing a brand of football that belies their preseason status as one of the favourites to go down.
Manchester United legend turned football pundit Denis Irwin recently described The Swans as a "revelation"
"They've been a revelation, their style of football is fantastic to watch so why change?" Irwin told The BBC.
"It's the way they play their best, the manager [Brendan Rodgers] feels it's the best way for them to get results and rightly so."