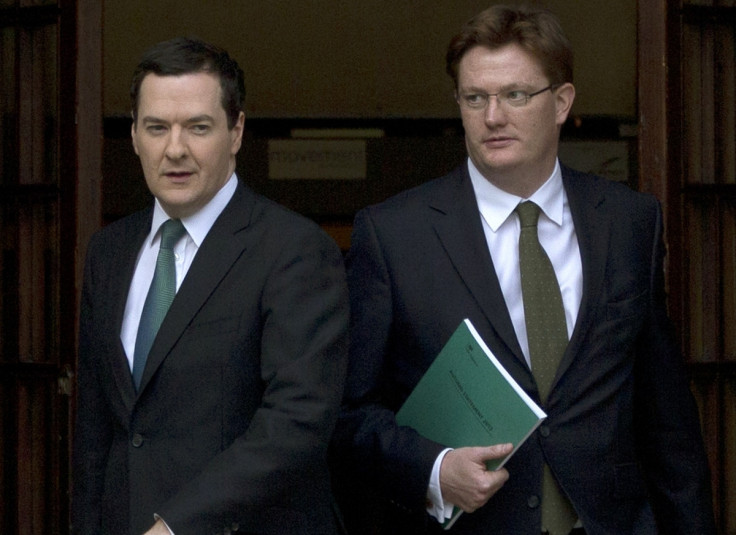 The chief secretary to the Treasury Danny Alexander has slammed George Osborne for leading a "wilful destruction" of public services and making £60bn worth of "unnecessary cuts".
Alexander said billions of pounds worth of cuts to be made by 2020 in an attempt to shrink spending, are playing "fast and loose" with the economy and threatening public services.
"The Tory agenda to keep reducing public spending beyond what is necessary would result in the wilful destruction of important parts of our public services. That is not appropriate or right for this country," said Alexander.
"People are prepared to go along with deficit reduction when they see it is necessary. When you are past that point, to where it is an ideological choice, people don't agree with that.
"I find it very difficult to see how you find £12bn of savings focusing purely on working-age benefits. Having looked at it hard, I just don't see how that is possible whilst maintaining a degree of fairness and a proper safety net.
"The Tories are playing fast and loose with the economy and frankly with their own credibility. It is not affordable or achievable, especially as they said they do not want any tax rises. Presumably to shrink the state, they would also have to make further spending cuts needed to pay for their tax cuts. I don't think it adds up."
However, in his interview with the Independent newspaper, Alexander insisted that his relationship with his Conservative colleague Osborne was "fine."
"George and I have worked effectively together in the Treasury to get on with the job of sorting out the economy," said Alexander.
"That is what both of us came into the Treasury to do, whilst recognising and understanding there are big political differences that cause arguments about policy."
Currently, Britain's budget deficit is over 5% of economic output.
While this is down from just over 10% when the Conservatives formed a coalition with the Liberal Democrats in 2010, it is still well above the promised 1% of GDP by 2015.
Osborne said he will be spending £10bn less this year than expected and that MPs will be asked to vote on a new charter of budget responsibility, which will set new deficit reduction targets, in 2015.
The Chancellor claimed his government are on track to eliminate the structural deficit by 2018.
Borrowing has been revised upwards by the Office for Budget Responsibility (OBR), which showed that the cumulative deficit is expected to be almost £280bn, £75bn higher than expected, by the end of the decade.
The UK is set to grow by 3% this year and by a further 2.6% in 2015.
According a Reuters poll of 22 economists, 17 of them say that Osborne's plans, which were unveiled in this year's Autumn Statement, to cut state spending to 1930s levels are "not achievable".