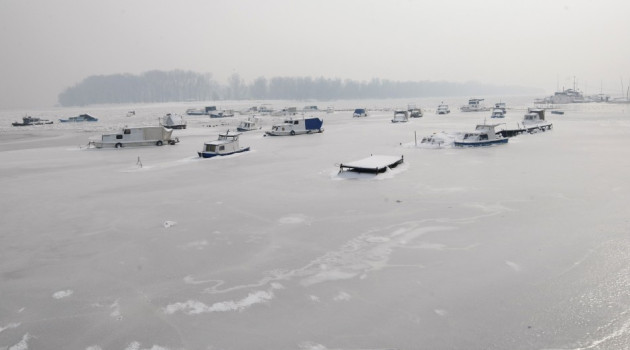 Hundreds of miles of the River Danube have frozen over as Europe's big freeze continues to bite.
Shipping companies claim they are losing millions in business, as the Danube is one of Europe's key waterways.
The cold has been unrelenting elsewhere on the continent.
Stranded Romanians freezing in the country's rural areas are having emergency supplies airlifted to them by the military.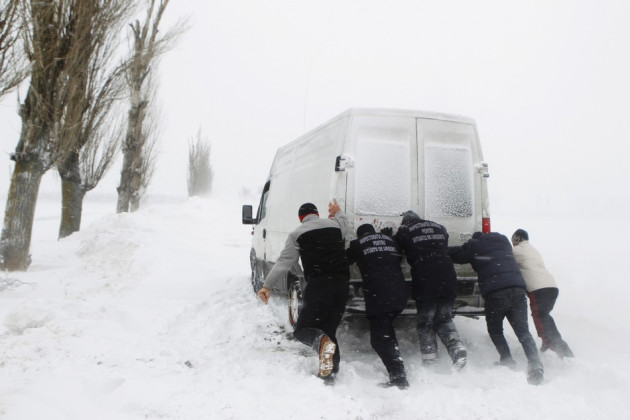 Some even had to burrow several metres through snow just to get out of their homes, Associated Press reported.
Dozens have died on Romania's streets as temperatures plunged to -32C in places.
Many major roads were closed, train services cancelled and over 1,000 schools shut in the country, which is suffering badly in the big freeze.
There are believed to be around 6,000 people stuck in their homes, which are blocked by ice and snow.
Around 8,000 Romanian soldiers are clearing roads and helping trapped residents.
Tens of thousands of Serbians have also been stranded by snowy conditions, with businesses and schools closing to conserve energy as part of the government's emergency measures.
An avalanche by the Serbian lake Perucac swept a man away as his wife and child looked on helplessly in their car nearby.
Divers will attempt to look for him in the lake.
A group of sailors are stuck on boats that have been stranded on the frozen Danube river near the Serbian town of Smederevo and emergency officials plan to rescue them by helicopter, before flying to an island in the river to deliver supplies.
A train tunnel was blocked by an avalanche in Montenegro, trapping 50 people.
Evacuation efforts are underway.
The freeze has been ongoing for a fortnight and is expected to continue for another week.