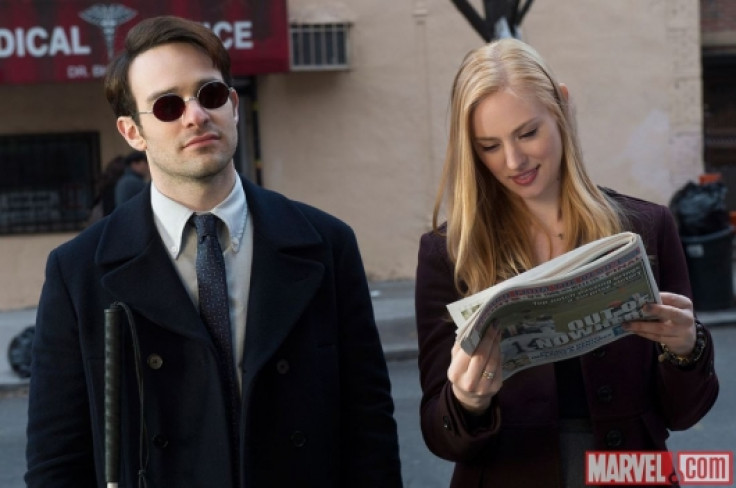 Daredevil season 2 will finally give Matt Murdock and Karen Page a shot at romance. A leaked image from the set shows the two holding hands.
The blind vigilante stole many viewers' hearts when Netflix premiered Daredevil season 1 in April this year. Matt Murdock and Karen Page remained just friends in season 1, but there were some hints that something might happen between the two, and this new set photo confirms their romance.
The image shows Charlie Cox dressed up in a black suit, with Deborah Ann Woll, on what looks like a romantic night stroll. But the couple's romance will not be a smooth ride with Elektra's arrival confirmed for season 2
Daredevil season two will introduce Elektra, played by Elodie Yung in the show. Elektra is the love interest of the Daredevil, but her violent nature and mercenary lifestyle eventually divide the two in the comics.
Marvel chief creative officer Joe Quesada has dished about Elodie Yung's role as Elektra in Daredevil season 2 in an interview with IGN. Quesada said, "I can't say enough about Elodie Yung. Literally, we scoured the world for the right Elektra and, man, she is the character. She looks like the character, she walks like the character, and then she has the martial arts training and stunt background that she can rely on."
"It's going to be really, really awesome to see her take over the role and see how she embodies and how she personifies Elektra. But again, another world-class actor who I think is going to bring something really special to Daredevil. And I think we established a really good tempo with Season 1, so fans can hopefully expect much more of the same," he added.