What does Darth Vader do when he's not out working for the Evil Empire? After a hard day spent trying to eradicate the Rebel Alliance and crush the fledgling Rebel Alliance, it seems the Sith Lord likes to relax by doing a spot of embroidery. Outside office hours, he puts old rivalries aside and meets up with Chewbacca and a couple of Stormtroopers for a spot of shopping or coffee in a local cafe.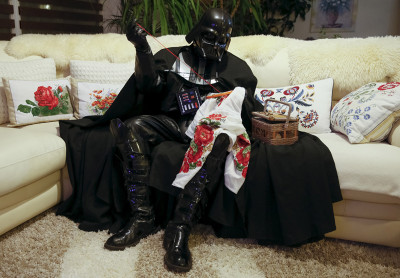 In the evenings, he likes to watch himself on TV (we don't know what he thought of the prequels) before curling up to read a romantic bonkbuster in bed.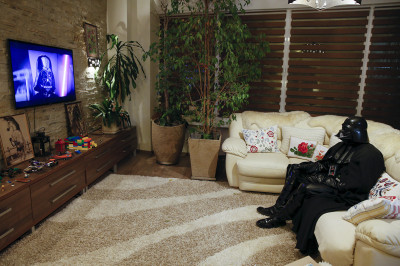 It appears the evil Lord is no fan of the dark side at home: he likes to do the ironing and get the vacuum cleaner out to spruce up his apartment, because this Darth Vader isn't the one who lives on the Death Star; this is Darth Mykolaiovych Vader, an aspiring Ukraininian politician who lives in a flat in Odessa.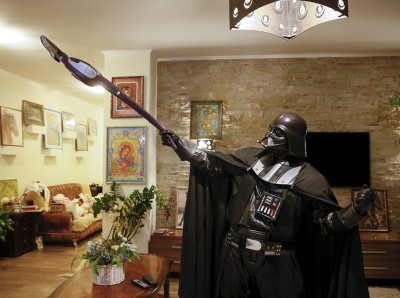 While audiences around the world have had to wait 10 years for The Force Awakens, the latest film in the Star Wars franchise, residents of the Black Sea port city have become used to regular sightings of Lord Vader in his masked helmet and floor-length black cape. The Ukrainian citizen, who officially changed his name to Darth Mykolaiovych Vader, ran for the post of mayor of Odessa, representing the Internet Party.
He regularly campaigned in the city, backed up by a phalanx of supporters dressed as Stormtroopers. In the run-up to the elections, Mr Vader did all the things expected of a politician canvassing for votes, such as meeting locals at the market traders. The kissing babies thing didn't go too well.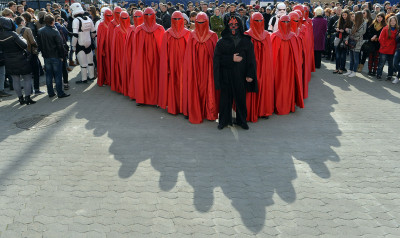 He didn't do badly in the October 2014 elections, coming 14th out of 42 candidates. An online petition to appoint him as prime minister later gained more than 25,000 signatures. His popularity is probably less a result of any significant support for the Dark Side than a sign of public frustration with the political status quo amid economic crisis and a violent separatist conflict. Some Odessa residents clearly prefer the evil Galactic Empire to their Communist past. In October this year a local artist refashioned a monument to Soviet revolutionary leader Vladimir Lenin into a statue of Darth Vader.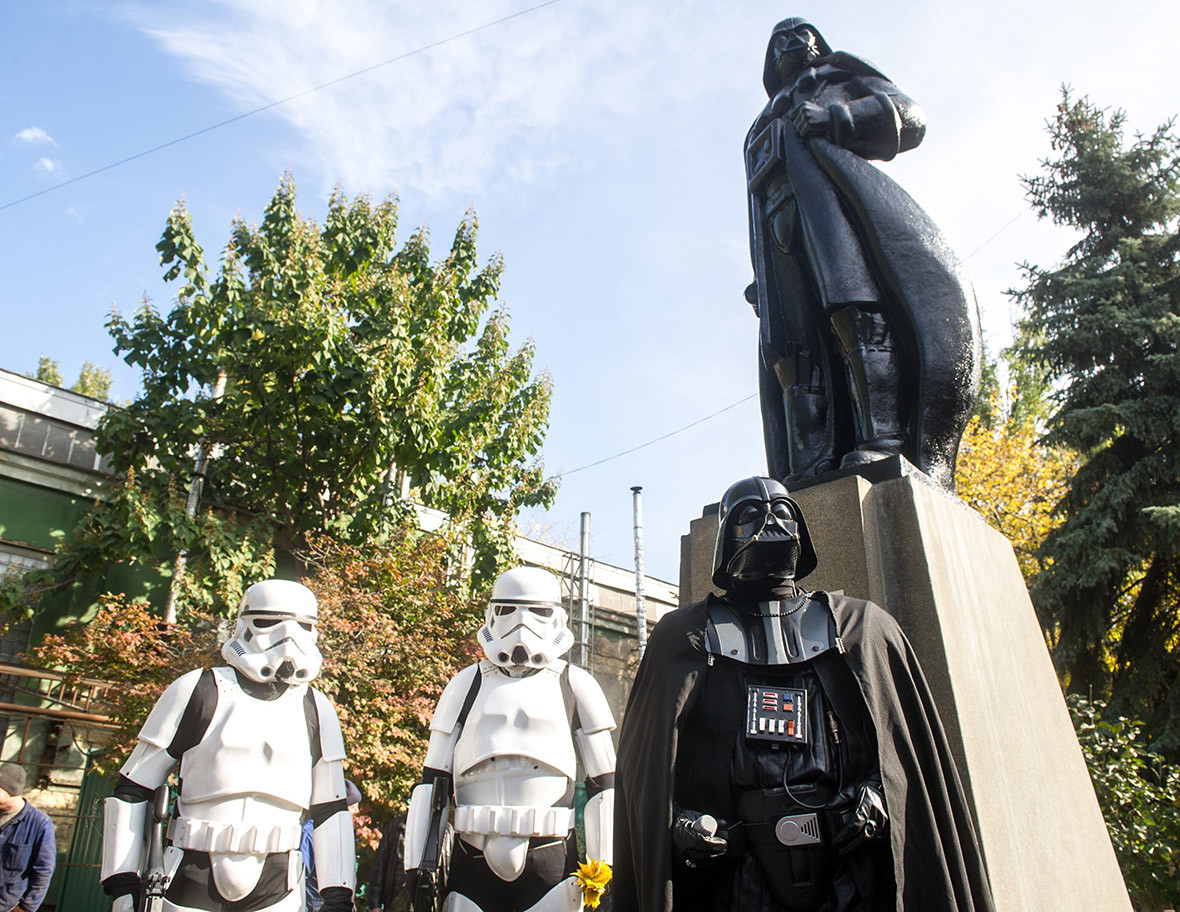 Asked about his plans for the future, Darth Mykolaiovych Vader said he was taking things slowly, but had not abandoned hope of gaining a top government job. "Considering the more than 25,000 signatures on the petition, (one plan is) to oust (Prime Minister Arseny) Yatseniuk and put me, Darth Vader, on the throne as prime minister," he told Reuters by email.
Until that glorious day arrives, Darth Mykolaiovych Vader will carry on living his day-to-day life: doing the chores, taking the dog for a walk and working out in a local with park (with a lightsaber, obviously).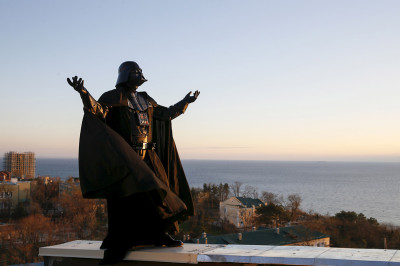 Oh, and in case you wondering: yes, he is married and has children (we bet they're mightily bored of him saying: "I am your father").