Terrifying dashcam footage of a thug jumping onto the bonnet of a moving taxi then smashing the window and punching the driver in the face has surfaced online. Northern Ireland Police are now searching for the man who carried out the attack on the night of Saturday 5 August on a street in Londonderry.
The victim, a father-of-three from India, has chosen to remain anonymous because he is too scared to speak out. It is not the first time he has been attacked while working, the Belfast Telegraph reports.
His daughter, Sunita Singh Hans, 22, says he has been left traumatised the incident, which began when the seemingly intoxicated attacker walked onto the Northland Road forcing him to slow his taxi at just before 11.30pm.
The Caucasian male, who appeared to be in his late teens or twenties, then jumped onto the car as it drove forwards gently and the driver screamed at him to get off. The driver eventually brought the car to a standstill.
But the thug then moved round to the drivers window – off camera – and could be heard smashing the window and punching the driver in the face.
Sunita said: "He smashed my father's window and punched him in the face. Dad was covered in glass. The attacker immediately ran away. My father drove straight home to us and was very shook up. He was cut and his eyes were burning.
"My brother and I had to take him to hospital to have the glass powder washed out of his eyes. He was hurt, but mostly it's the mental trauma of what happened. He is worried about his safety.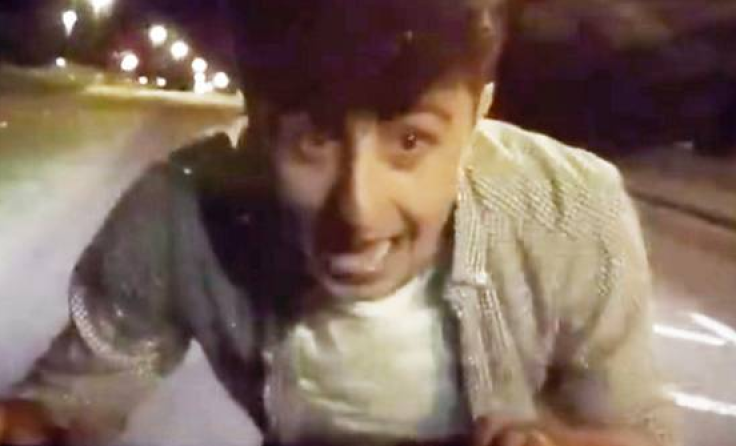 "He says he is not going to work nights any more. I would advise taxi drivers in Derry not to work Saturday nights in this city.
"People complain about how hard it is to get a taxi in Derry on a Saturday night - attacks like this are why. I've had so many messages from other taxi drivers telling me that they've had their cars burnt, they've been attacked also."
Sunita added that this was not the first time that her father had been assaulted while at work. She said he once "had his face smashed in" by a gang of racist louts and that he had suffered several other attacks in the 30 years since he moved to Northern Ireland from India.
Anyone with information should contact police quoting reference number 1622 05/08/17, or Crimestoppers anonymously on 0800 555 111.