A young mum was left with life changing injuries after a sickening attack in which her aggressor 'danced on her face'. Mary-Anne Connors, 23, was left for dead at her home in Great Dunmow, Essex
Essex Police want to speak to a 28-year-old man in connection with the assault, which has left Connors needing reconstructive surgery on her jaw, nose, cheekbones and with an eye socket damaged so badly she may lose her sight.
A neighbour found her unconscious in the early hours of 23 July after being alerted by the sound of her two-year-old daughter crying.
She was rushed to hospital and is now in a stable condition after having an operation to stop bleeding from her spleen.
Her mother, Mary Connors, told the Daily Mail, she was just glad her daughter was still alive. before disclosing sickening details about the attacker.
"[He] told her: 'I'm going to dance on your face' and he put some hard dancing shoes on and she asked him to leave but he didn't," said the mother.
"She tried to scream but he punched her and knocked her out and danced on both sides of her face. He hit her with a baby rocking chair," she added.
The attack is believed to have lasted for at least five hours with friends on Facebook reporting that it may have been as long as 10.
Connors injuries are described as "life changing" and she has received multiple stitches to her head in addition to the various facial surgeries.
Her mother, who lives in Ireland, where Connors is originally from, said: "The attack definitely started the day before she was found and it went on for at least five hours. He has also damaged her teeth and she has lost some hair after he pulled on it.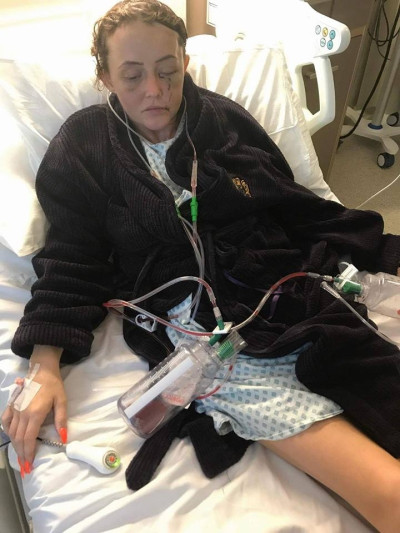 "The neighbour found Mary-Anne and the baby crying at 5.30am. That baby could've fallen down the stairs. Anything could have happened.
"She fainted when she found Mary-Anne but then rang us and said, 'she's hurt, she's like the elephant man. He's left her for dead. The baby is crying'".
An Essex Police spokesperson said: 'Police are appealing for information to help find a man from Gloucester who they want to speak to in connection with a serious assault in Dunmow, Essex.
"John Paul Berry, 28, is described as being between 5ft 6in to 5ft 9in tall, of slim to medium build with brown hair a brown beard and moustache. He has a number of tattoos on his arms and chest. He also goes by the name of Johnny.'