A poll that showed Donald Trump leading in the US election's popular vote is being dismissed by Hillary Clinton's campaign even as Democrats use it to raise campaign funds.
The poll by ABC/Washington Post released Tuesday showed the Republican ahead of Clinton by a slim 1% margin. This was a sharp reversal of fortune after Trump had been weighed down in the polls by accusations of sexual assault against women. Even newer polling shows the candidates tied.
But Clinton's campaign shrugged off the results during her flight to Florida where she held rallies Tuesday. A senior campaign official told a group of reporters that the data was "bad polling" and that there was "something about that model that seems odd."
The poll had sampled voter sentiment over the weekend from 27 October to 30 October following a controversial letter FBI Director James Comey sent to government officials last Friday (28 October).
The letter said the FBI may have discovered more emails linked to the bureau's recent investigation of Clinton's use of a private server for her work as Secretary of State. The investigation was officially closed in July without charges being pressed.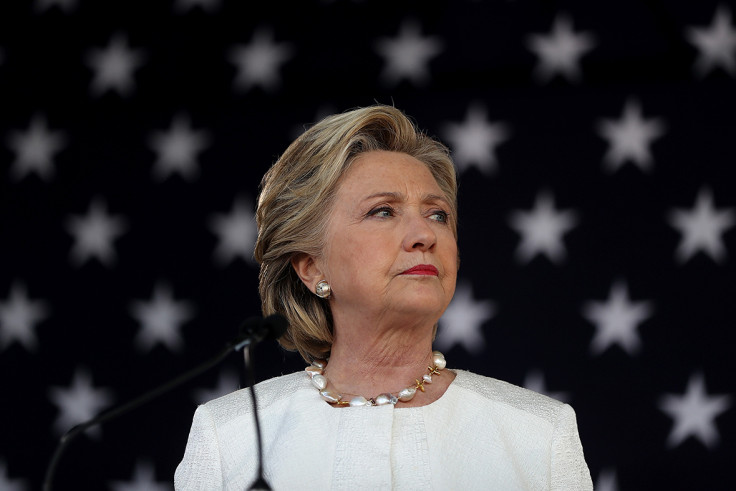 The poll numbers showed waning voter enthusiasm for Clinton in the wake of Comey's letter. But the Clinton campaign disputes that.
"We do not see any evidence that the Comey story has had an impact," the campaign official told journalists. But even as the campaign dismissed the polls, Democrats were using it to raise money to "Get out the vote" (GOTV) for Clinton.
In messages sent out Tuesday, Democrats used the ABC/Washington Post poll to get people to chip in money for a fund to bring voters to the polls.
More polling for ABC News and the Washington Post, as well as another for IBD/TIPP, released Wednesday (2 November) showed Trump and Clinton tied — each with 44% of the vote.
The new ABC/Washington Post poll showed Clinton's reputation for being honest and trustworthy sinking among voters.
"Notably, Trump has not gained significantly in being seen as more honest than Clinton," the polling found, but "rather her score has dropped, by 7 points."
And in the wake of renewed scrutiny of her handling of government emails, her trustworthiness has taken a hit, even among Democrats.
"The number of her own supporters who think she'll win easily," the poll found, "is down 8 points."
Still, the ads appear to be working. Tuesday (1 November) the Clinton campaign said it had raised $11.3m online in the previous 72 hours.