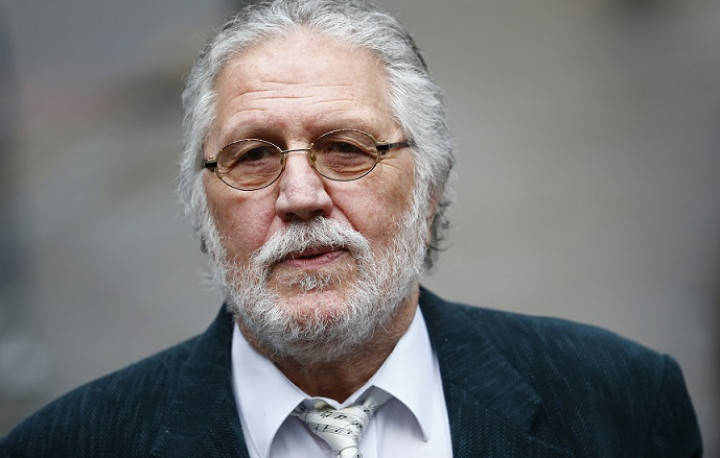 Former BBC broadcaster Dave Lee Travis has been found guilty of one count of indecent assault but cleared on one more.
The jury at Southwark Crown Court was unable to reach a decision on one further count of sexual assault.
Travis, 69, was accused of two counts of indecent assault and one count of sexual assault against three women between 1990 and 2008. He denied all the allegations against him.
The jury reached their decision on two counts after the judge told them he would accept a majority verdict following three days of deliberations.
The veteran broadcaster was found guilty of indecently assaulting a woman while working on TV programme The Mrs Merton Show in 1995.
Travis, who was charged under his real name of David Griffin, was cleared of indecently assaulting a woman while he starred in a pantomime version of Aladdin in the early 1990s. He was alleged to have placed his hands inside the trousers of the woman who worked on the production.
He was cleared of a third charge after the jury was unable to reach a verdict on accusations that he sexually assaulted a journalist by grabbing her chest when she interviewed him at his home in 2008.
Travis faced a retrial on the two charges he has now been cleared of after a jury was unable to return a verdict on the indecent assault charge and the sexual assault charge at a trial earlier in the year.
He was found not guilty of a further 12 indecent assault charges following a trial at Southwark Crown Court in February.
Travis, from Aylesbury in Buckinghamshire, was a former BBC Radio 1 DJ as well as presenter on Top of the Pops. He was arrested in November 2012 as[part of Operation Yewtree, the Met Police investigation into sex abuse allegations in the wake of the Jimmy Savile scandal.
Other high-profile to have been convicted under Yewtree include celebrity publicist Max Clifford and entertainer Rolf Harris.
Summing up, judge Anthony Leonard told the jury not to be "overawed or deflated" by the interest around the case.
"You are trying allegations of historical sexual assaults against someone who has been in the public eye for many years," he said. "The fact that the defendant is a well-known media personality does not change the rules of this case."
He added: "There is no such thing as guilt or innocence by association. It follows that you will try this defendant on the evidence in this case and ignore as irrelevant any allegations that have been made against others or the results of trials they have faced."
During the trial, Travis was described as an "opportunist" who thought he had a "perfect right" to assault his victim.
Prosecutor Miranda Moore QC said: "We say that this defendant has a propensity towards laying his hands in a sexual manner on young women who are alone with him or in vulnerable positions."
Travis is due to be sentenced on 26 September.