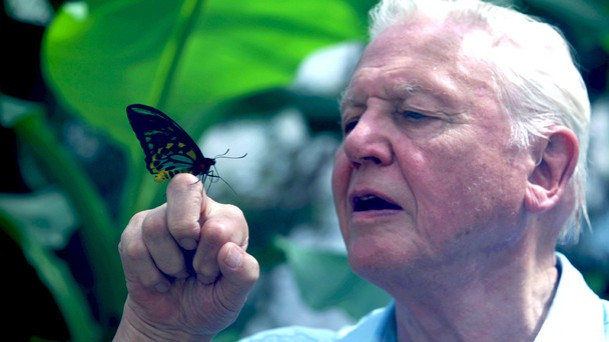 Ahead of David Attenborough's new nature programme, Attenborough's Ark: Natural World Special, the broadcaster has said he thinks mankind has a few million years left before it goes extinct.
The new documentary, which is on BBC2 at 9pm tonight, looks at 10 endangered species from around the world.
As well as tigers and pandas, Attenborough, 86, also examines some less usual animals, including Darwin's frog, the Sumatran rhino and the black lion tamarind.
The subject of extinction was discussed by the naturalist with Chris Packham in an interview for the Radio Times. Attenborough said: "I don't think that humanity is going to disappear within the next couple of million years because it is omnivorous, highly adaptable and very powerful.
"I think a population explosion will have devastating effects on homo sapien's ability to feed itself and that the size of the population will be diminished and the amount of leeway that provides man with his luxuries will also be diminished, so that the species will not be as self-indulgent and wasteful as it is at the moment.
"But whether it will disappear altogether ... maybe there will be a huge, disastrous epidemic, but most of these epidemics have quite a short timespan. I suspect humanity will stagger on, though not quite as luxuriously."
Each of the animals examined in Attenborough's Ark has very specific traits. Darwin's frog is the only frog in the world where the male gives birth to offspring. Another of Attenborough's subjects is the olm, a salamander that can live to 100.
The series also features the largest butterfly on earth - the Priam's birdwing butterfly - and the Sumatran rhino, the smallest and most threatened member of its species.
During the programme, Attenborough tells how the first ever Sumatran rhino to be bred in captivity was born in the Cincinnati zoo, a landmark moment that gave hope for the future of the rest of the species.
In the interview with Packham, Attenborough speaks about his lengthy career, which now spans seven decades. He said: "I've had a hell of a good time. Part of it, of course, is quite childish. It's undeniable that there's a great thrill in doing something that hasn't been done before and putting on film creatures that haven't been filmed before. It's damned difficult to do that now!"
The naturalist also jokes with Packham about how he used to collect birds' eggs, which is now illegal. "I knew when the right moment was when you could take one, and the bird would lay another, so you didn't damage the population, and I learnt a lot."
Packham then goes on to say that, despite the law, he would not reprimand a child that was climbing up to a nest, and instead would give him a lift up. "Well, I'll see you in Pentonville!" Attenborough replied.