David Beckham has been inundated with offers from the Premier League but claims his attachment with Manchester United could prevent a return to English football.
Beckham is seeking a new challenge after confirming his departure from LA Galaxy after this Saturday's MLS Cup final and has attracted reported interest from Australia, China and Russia.
Upon his appointment at Queens Park Rangers, manager Harry Redknapp said Beckham would be a 'great asset' to his next club, sparking reports of a potential move to Loftus Road, but the former England captain says he is simply flattered by the praise he's received.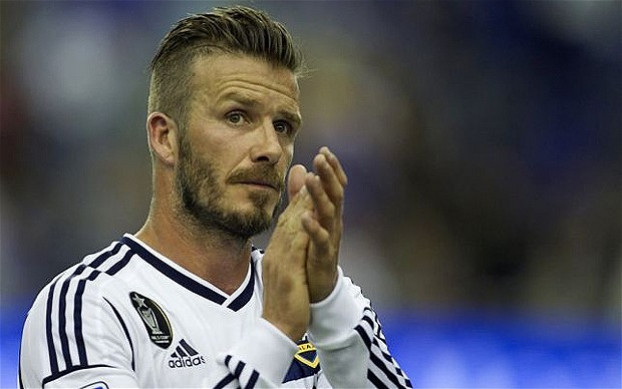 "I'm lucky," Beckham said. "At the age of 37 I've been offered some quite exciting options and there are a few options on the table and like I say exciting ones.
"I always said I'd struggle to come back and play in England because I've played for the biggest club in the world and biggest club in England - Manchester United so I couldn't see myself playing for any other Premier League team.
"But as I said I've got a few exciting options on the table I do think I'll be spending more time in England because it's good for our kids to see their grandparents."
"What I am touched about," Beckham added "is that I've got great managers that are coming out, like Harry, like Carlo Ancelotti, managers like this that are coming out and saying great things about me.
"Not saying they would like to sign me but saying nice things about me. I spent a couple of months with Harry when I was at Tottenham and he doesn't have to say the things that he says. It's nice to see him talk about me in such a nice way."
Beckham trained with Tottenham in the 2011 MLS offseason, during Redknapp's spell at White Hart Lane, but failed to agree a temporary loan deal.
The ex-Real Madrid midfielder announced a fortnight ago his intention to leave the Galaxy after six years in the MLS.
Confirmation of his departure has sparked a myriad interest from overseas, with A-League duo Perth Glory and Melbourne Heart having revealed their interest, while Ligue 1 side Paris Saint Germain have rubbished reports of a possible bid for the midfielder.
Beckham's final game in America comes this weekend when Galaxy face Houston Dynamo in the MLS Cup final.