David Cameron in 'Zombie Parliament' Row Over Queen's Health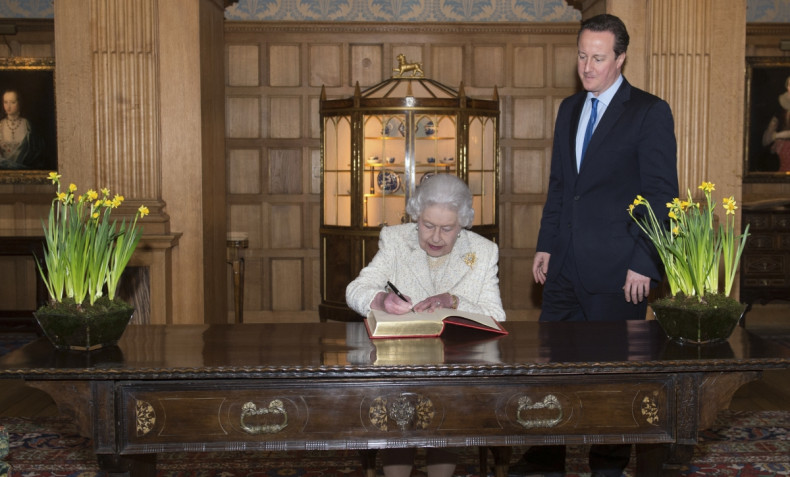 Prime Minister David Cameron has been accused of having "bad manners" by delaying the opening of parliament for a month at short notice, which means the Queen will have five consecutive days of engagements without a break.
According to the Daily Mail, MPs have accused the coalition of running a "zombie parliament" since it has run out of policies to debate.
The PM wanted to move the Queen's Speech, which sets out the government's legislation for the next 12 months, to 4 June. This would give her and Prince Philip a mere 24 hours to recover before they have to make a three-day trip to France to mark the 70<sup>th anniversary of D-Day.
Buckingham Palace warned that moving the date would overburden the Queen, who will turn 88 next month. Prince Philip will turn 93 on 10 June.
Zombie parliament
In the end, the opening of parliament has had to be moved to 3 June, which means that the Queen will have to attend the State Opening of Parliament and read the Queen's Speech, then return to Buckingham Palace in the afternoon to host a garden party.
"The Queen and Prince Philip have understandably scaled back their appearances because of their increasing age, yet the government is putting them under needless strain to spare its own blushes," a senior parliamentarian said.
"It is rude and disrespectful. Consideration for the Queen should take priority over political embarrassment."
Since no other date was available and failing to open Parliament would cause a constitutional crisis, the Queen eventually agreed to 3 June.
Cutting back on duties
"We made it clear that the Queen would be leaving for the D-Day celebrations on the 5th [June], and had a very constructive dialogue on that basis. At all times we were guided by the constitutional proprieties," the palace spokesman said.
A government spokesman said: "The June date has been in the diary for a while now and we made sure that the palace was given good notice. We were aware that the Queen was planning to travel to the D-Day commemorations later that week.
"We know the Queen has a very busy diary and we have been sensitive to that fact."
Last year it was announced that the Queen and Prince Philip would be cutting back on overseas travel. They will make only two overseas trips in 2014, the other being a trip to Italy to meet Pope Francis in April.