A visibly angry David Cameron has vowed to hunt down those responsible for the sickening murder of aid worker David Haines, and said the UK would do "whatever it takes" to combat the menace posed by the organisation.
Speaking after a meeting of the Cobra emergency committee at 10 Downing Street, Cameron said that the murder of aid worker Haines showed that Islamic State militants – who he pointedly referred to as ISIL, Islamic State of Iraq and the Levant, possibly as a result of pleas by influential British Muslims – were "monsters, not Muslims".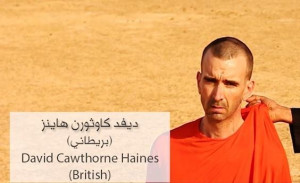 "We will hunt down those responsible and bring them to justice, whatever it takes," the prime minister said. "We cannot ignore this threat to our security and that of our allies."
Cameron vowed to continue arming and helping the Kurdish peshmerga – referred to in the video released by Haines's murderers – and said the military would continue to provide help to the US, though he ruled out "boots on the ground" for now.
"David Haines was an aid worker," said Cameron. "He went into harm's way, not to harm people but to help his fellow human beings in the hour of their direst need, from the Balkans to the Middle East. David Haines was a British hero. The fact that an aid worker was taken, held and brutally murdered at the hand of Islamic State sums up what this organisation stands for. They boast of their brutality. They claim to do this in the name of Islam. That is nonsense– Islam is a religion of peace."
Cameron set out a list of five steps which would now be taken to combat Islamic State, including reinforcing counterterrorism in Britain: "People across this country will have been sickened by the fact that it could have been a British citizen – a British citizen! – who could have carried out this unspeakable act. It is the very opposite of everything our country stands for.
"It falls to the government and to each and every one of us to drain this poison from our society and to take on this warped ideology that is radicalising some of our young people."
The full transcript of David Cameron's speech can be read here.