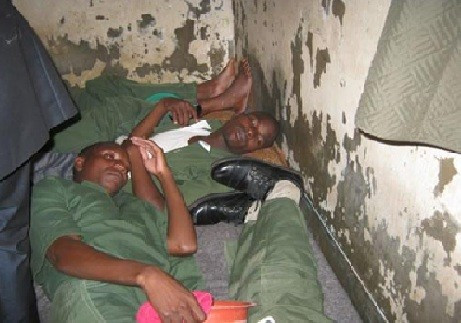 Mukubeko Maximum Security Prison stands on a patch of dusty ground outside the provincial town of Kabwe, in Zambia's Central Province. Mukubeko, or Maximum, as this place is known locally, is an imposing structure that was built for some 450 people but now houses over 1,600 male convicts and remand prisoners awaiting trial. Most of the prisoners spend their days out in the sun walking and talking in the central courtyard, avoiding while they can the stench and darkness of the tiny communal cells where they spend 12 hours a day crammed in together.
In a separate section that is completed caged in, the facility's "condemned" prisoners are kept apart from the main population as they wait on death row for executions that will never happen. Their crimes include aggravated robbery, murder and treason and some have been here for as long as twenty years. Although Zambia continues to sentence people to death for these crimes, the country last carried out an execution in 1997. The story of these prisoners is not unique, and although less countries employ the death penalty the ghosts of old laws continue to linger and in many cases result in serious human rights abuses.
Globally the death penalty is in decline. As of this year, 101 countries maintain the death penalty in their law for ordinary crimes, although only 44 of those now regularly carry out executions. This figure has steadily declined from 54 in 2005. If we examine the geographical spread of countries that continue to execute, we find that Africa, at 30 percent, is the largest bloc within that group of 44. In terms of actual numbers of deaths however, China, Iran and North Korea between them carry out the lion's share of the 5,500 or so executions that take place each year. The picture in Europe is radically different and all European Union member states have abolished the death penalty in law, with Lukashenko's Belarus the only country on the European continent that retains it.
This trend has not yet extended to Europe's former African colonies, where public support for the death penalty remains stubbornly strong. In many cases, colonial-era penal codes have not been substantially repealed. These laws continue to provide for outdated laws that threaten the rights of individuals coming into contact with criminal justice systems and many also violate agreed international standards on the application of the death penalty. One example of such a law is the mandatory death sentence for certain crimes, typically murder, aggravated robbery and treason.
In practice, this means that once a person has been convicted of any of these crimes, the trial judge has no discretion to choose a punishment that fits the crime and is required to impose a sentence of death, regardless of the mitigating or aggravating circumstances. Under this system, a single crime of passion is met with the same punishment as a series of premeditated contract killings.
The UN Human Rights Committee states: "The automatic and mandatory imposition of the death penalty constitutes an arbitrary deprivation of life, in violation of article 6, paragraph 1, of the [International] Covenant [on Civil and Political Rights]."
The UN Special Rapporteur on extrajudicial, summary or arbitrary executions has gone further.
"The mandatory death penalty is inconsistent with the prohibition of cruel, inhuman or degrading treatment or punishment," the rapporteur said.
Diverse authorities including the UK Privy Council, the US Supreme Court, the Constitutional Court of South Africa and the Supreme Court of India, have also passed judgments condemning legal provisions which impose the death penalty as a mandatory sentence.
Strangely, in pre-colonial times, African societies rarely used death as an officially sanctioned punishment or form of societal control, preferring to deal with the most serious crimes by banishing the guilty party from the community. Banishment may sound like a lenient sentence but being forced to live alone and unprotected in Africa's harsh conditions was a terrible punishment. Often, the removal of the protection and support of the community resulted in death by starvation, exposure or suicide. Although death was sometimes the end product of this system of state sanction, there is a distinction to be made from a system in which the community or "state" takes it upon itself to act as executioner, as is the practice today.
Given this background, it may be hard to understand the reason for high levels of popular support in modern-day Africa for what is essentially an imported form of punishment. Even in South Africa, where capital punishment was outlawed by a 1995 Constitutional Court Decision, many sections of society believe it should be brought back and that the country is now less safe than it was when the threat of execution was present. In other African countries where the death penalty has not been abolished, leaders regularly lean on "the public still wants it" argument to shore up their decision to retain these laws.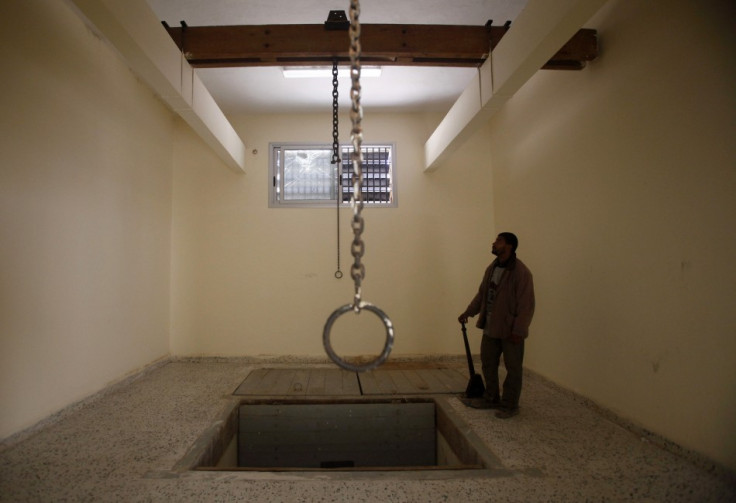 While politicians are reluctant to act, some top courts in the region have begun to rely on human rights provisions in post-independence constitutions and international treaties to advance the case for reform. Since 2005, landmark judgements have been passed in Malawi, Uganda and Kenya - three former British colonies that all inherited mandatory death penalty provisions. These judgments found that mandatory death sentences are unconstitutional because they violate the rights of the accused to a fair trial, infringe upon the separation of powers and usurp the protection against cruel, inhuman and degrading treatment. A constitutional challenge before the Zambian courts relies on these persuasive precedents and also seeks to have the mandatory death sentence for aggravated robbery struck down.
This trend of judicial activism is a source of hope to the condemned inmates like those at Maximum prison in Zambia. There is also evidence that death penalty-related rights abuses can be addressed through the promotion of wider democratic reforms. As states strengthen their democratic systems, they are more likely to abolish the death penalty. Of the 44 countries that retain the death penalty, only seven are liberal democracies, according to the analysis employed by Freedom House in itsFreedom in the World 2011 report.
The debate on the place of the death penalty in modern democratic societies is likely to rage on for quite some time. Regardless of individual positions in that debate, governments and civil society groups that are committed to promoting just societies based on a respect for basic rights, fairness and the rule of law should be concerned about how the penalty is applied. They should also remember that the penalty has only to be retained in law for it to have a potentially damaging effect on a country's ability to respect the rights of its citizens.
As African countries continue to develop constitutions and laws with an ever-increasing emphasis on human rights and the rule of law, a healthy debate on the death penalty must be encouraged as part of that process. Citizens across Africa may not be ready to let go of the death penalty, but their elected leaders must at the very minimum ensure that it is applied in accordance with international standards and in a way that respects the rights of all, even those accused and convicted of crimes.
Cathal Gilbert is project director for rule of law and human rights in southern Africa for Freedom House. Freedom House supports democratic change, monitors freedom and advocates for human rights and democracy around the world.