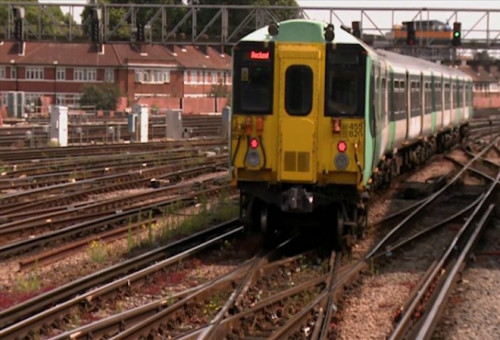 Arriva Trains Wales has been rated the worst rail company in Britain. The services operating in South Wales have come bottom in a survey for limited seating, poor car parking and a lack of shops by more than 500 passengers.
With busy commutes, increasingly expensive fares, and delays, rail passengers are becoming more disgruntled. IBTimes UK has investigated the eight worst train companies in Britain, as revealed in several surveys including the latest National Rail Passenger Survey (NRPS).
Fed-up passengers have publicised their experiences on social media sites, generally under the hashtag #useless.
First Great Western. In 2012, only 43% of customers said they were satisfied and would recommend the company. Nothing has really changed since, according to the NRPS, which revealed no improvement (or decline) in April 2013. Unhappy passengers complained about overcrowded trains and frequent delays. Their branding even inspired one passenger to tweet on their "Commuting Rants" page.
South West. Passengers have complained about dirty trains and delays, as well as a lack of seats. According to the NRPS, there have been no improvements since 47% of passengers said they were underwhelmed by the service in 2012.
Southeastern. Another London commuter nightmare, the services are often delayed or cancelled - leaving passengers in the lurch. A parody Twitter account called "SouthEastern Failway" was set up to entertain passengers while they waited for delayed trains.
London Midland. Customers said too few carriages had resulted in overcrowded services.
Greater Anglia. Passengers have been forced to wait for broken-down trains and delayed services. They have also come under fire for running services with not enough carriages.
ScotRail. A wheelchair-user suffering from cerebral palsy was left distraught and unable to board a train when a member of staff refused to put the ramp down. Nino Zavaroni, aged 17 at the time, sought­ ­assistance when he arrived at Glasgow Central station. He asked staff to put the ramp down, but was told: "No, you're not getting on. You need to book 24 hours in advance."
Southern. The company has received complaints of delayed services, overcrowded carriages and old trains. According to the NRPS, customer satisfaction has declined since April 2013.
East Midlands. The company has received complaints about trains with too few carriages and extensive delays to services. Passengers have said the services are unclean. Customers have previously complained about ill-mannered staff.