Vermont senator Bernie Sanders has been accused of dividing the Democratic Party once again after commenting on the 'failed' approach of former US vice president Joe Biden.
During Sanders' endorsement of Keith Ellison for chairman of the Democratic National Committee, he said it was time to move beyond the "failed status quo approach" of Joe Biden and contender for DNC chair Tom Perez, infuriating Perez supporters.
"Joe Biden is a friend of mine and I have a lot of respect for Tom Perez. In terms of the next chair of the DNC, however, the question is simple: do we stay with a failed status quo approach or do we go forward with a fundamental restructuring of the Democratic Party?
"I say we go forward and create a grassroots party which speaks for working people and is prepared to stand up to the top 1 %. That's why we have to support Keith Ellison," Sanders said in a statement seen by NBC News.
However, his comments did not go down well with Perez supporters, who felt Sanders was 'taking over' the debate.
"It is very concerning that Bernie Sanders is so intent on taking over a party that he's not even a member of that he'd insult the beloved vice president — and really the president — about a failed status quo approach," Texas Democratic chairman and Perez supporter Gilberto Hinojosa told The Hill.
"We lost an election and all of a sudden we're all a part of a failed status quo? When he puts Joe Biden and Tom Perez in this category and paints with a broad brush he insults all of us. This is an election between loyal, qualified Democrats who love our party and the country. There's no need for him to lower himself to that level."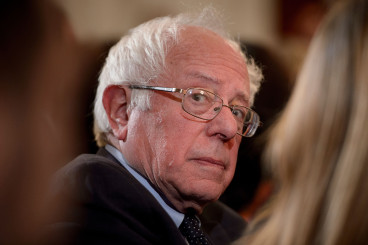 However, despite Sanders' words about Biden upsetting some voting members of the DNC, others insist the problem is being blown out of proportion and painted as a divide in the party rather than a debate about whether Perez, Ellison, or another candidate will become DNC chair.
DNC vice chairman R.T. Rybak told The Hill: "From the beginning people have tried to project a proxy fight onto what is, in reality, a pretty tame tactical discussion about how Democrats organise.
"It's not as sexy as a narrative about Bernie-Hillary revenge, but the reality is we're looking forward, not back."