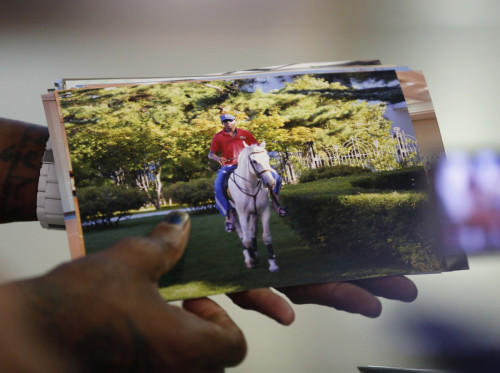 Dennis Rodman takes in North Korea on the back of a white horse in an image which only adds to the surreal flavour of the flamboyant basketball star's relationship with Kim Jong Un.
The image shows the 52-year-old mounted upon the young dictator's own steed and looking out upon the landscape of the Hermit Kingdom.
Reportedly taken last August, Rodman is sporting a pair of shiny blue tracksuit bottoms as he takes the well-groomed mount by the reins.
The former Chicago Bulls player has just arrived back in North Korea for visit number four. He has gone there to help the podgy despot celebrate his birthday by organising a basketball match featuring 11 former NBA players.
Rodman has insisted he shall not discuss with Kim alleged human rights abuses inside prison camps run by the secretive regime, when the pair meet in Pyongyang.