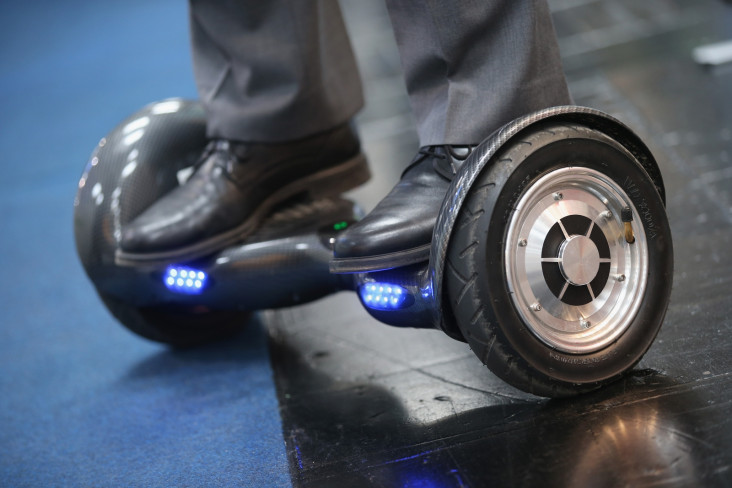 An Alaska dentist charged with Medicaid fraud allegedly pulled a sedated patient's tooth while riding a hoverboard, prosecutors said. According to court documents, 31-year-old Anchorage dentist Seth Lookhard was charged with 17 counts of fraud and "unlawful dental acts" after repeatedly using IV sedation in procedures that did not require it.
In 2016, he billed a total of $1.8m (£1.4m) for the IV sedation procedure, more than any other provider in the state of Alaska. The second highest bill for IV sedation, in comparison, was $475,000.
Medicaid Fraud Control Unit investigators also found a video on Lookhart's phone showing him riding a hoverboard while extracting a sedated female patient's tooth in or around July 2016.
He then allegedly sent the video to several people and joked that the procedure represented a "new standard of care". Prosecutors said the woman appeared to be completely sedated and unaware of Lookhard's actions.
After investigators contacted the patient, she reportedly said she was not aware that Lookhartwas riding a hoverboard during the procedure. The video was found on both Lookhart and his office manager, 32-year-old Shauna Cranford's phone.
Prosecutors also accused Lookhart of allowing Cranford to remove two teeth despite the fact that she does not have a medical license.
"I pulled out two teeth on a guy yesterday," Cranford allegedly wrote in a series of texts to her mother who lives in Washington state. "It was a real patient. Seth let me do it.
"He was asleep. He didn't know I did it," she wrote along with a short video of the patient sedated and snoring as Lookhart drained fluid from his upper gum area. After being interviewed by investigators, the patient said he never gave anyone permission to film him while he was sedated.
After she was hired, Cranford allegedly first suggested that Lookhart could boost the clinic's business by getting trained to perform IV sedation on patients getting dental work done. Former employees told investigators that the two allegedly pushed IV sedation for routine procedures such as deep cleanings as well.
"Employees indicated that Lookhart was initially resistant to adding this service to his practice, but Cranford ultimately convinced him it was a good idea," the charging document reads. "When interviewed, Cranford confirmed that she introduced the idea of including IV sedation as a service at the clinic."
Cranford is also facing her own set of 16 charges including 10 felonies and six misdemeanours.
If convicted, Lookhart and Cranford could face up to 10 years in jail, a fine of up to $100,000 and be ordered to repay Medicaid and defendants up to $2.5m in restitution, KTUU reports.
Prosecutors also identified Lookhart as a flight risk and requested that he be arrested saying he has "significant financial resources" as well as "significant family ties out of state". They added that he also has "a passport and contacts in Brazil and has travelled to Brazil in the previous two years, is believed to speak Portuguese, [and] has business contacts in Dublin, Ireland".
On Wednesday (19 April), a judge found Lookhart to be a flight risk and order his passport to be confiscated. Lookhart posted a $250,000 bail and is set to appear in court on 6 June.
Numerous dangerous accidents involving hoverboards, ranging from fires, explosions, burns and property damage, have continued to pop up in recent years. In 2016, the US Consumer Product Safety Commission (CPSC) recalled over 500,000 hoverboards from eight manufacturers due to fire hazards related to the devices' lithium ion batteries.
In March, the CPSC announced the recall of the Los Angeles-based Vecaro LifeStyle's hoverboards following the deaths of two children in Pennsylvania after a hoverboard ignited while charging.