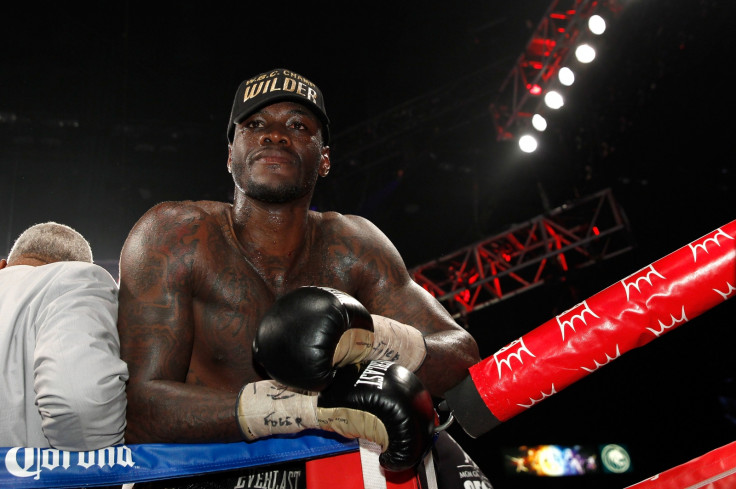 Deontay Wilder firmly believes that he is on a whole other level when compared to Anthony Joshua and has hinted at his desire to arrange a fight between him and the IBF heavyweight champion as he seeks a unification bout.
Wilder, who has won all 38 of his professional career fights so far – 37 of them by knockout – believes he has seen everything during his time in the ring and can adjust to the strengths and weaknesses of any potential opponent. When asked about Joshua, who is set to face Wladimir Klitschko on 29 April, the 31-year-old American believes there is clear daylight between him and the 27-year-old.
"I definitely feel like I'm on a whole 'nother level than Joshua,' Wilder told Fight Hype. "I've been in this game for a while now. I'm very experienced. I think I've seen every style to see, you know, the major styles that I need to see.
"I think I've seen it, I've learned it, and that's what allows me to adjust in the ring and do my thing. I definitely feel and know that I'm in another league of my own when you compare the two of us."
Wilder later complimented English boxing fans and commended them for the hype they have built around Joshua during the embryonic stages of his career. 'The Bronze Bomber' believes a bout between him and Joshua would set pulses racing and has called it 'the fight that everyone wants to see'.
"I mean, if you look at Joshua, Klitschko, and [Joseph] Parker, Parker has the WBO belt, and you take those three and put me up on a chart and say which one would be the most exciting fight, a lot of people would think the Joshua fight would be the most exciting fight out of the three and I think I agree," Wilder added.
"I think they got some wonderful fans there in England and they built the hype behind him very well. I think that's the fight that everyone wants to see, Joshua and Wilder."