Derby County boss Nigel Clough says only serious money will help tempt the club into selling 17 year old midfielder Will Hughes, with the likes of Arsenal reportedly interested.
Hughes has played in every one of Derby's 17 Championship fixtures this season, earning a reputation in the second tier which has seen a succession of scouts from top flight clubs take a look at the teenager.
But Clough says that Hughes will be staying put, unless a substantial offer is submitted.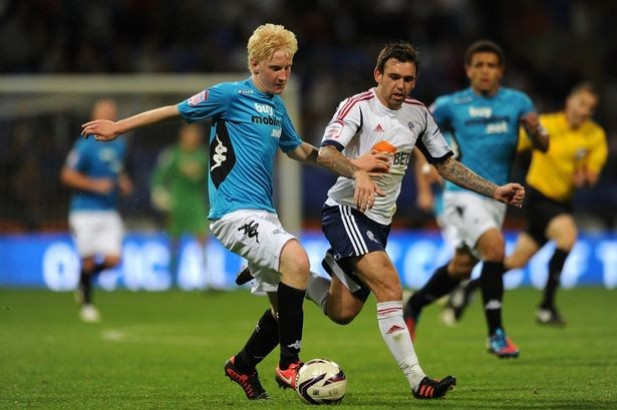 "If anybody wants him, they know it will be serious money," Clough told The Derby Telegraph.
"Nothing has changed. If an offer comes in for Will or any player, it will be judged on its merits. If we think it is good business and we can do something with it, then we will do it.
"We see the list of scouts for our matches at Pride Park and it is their job to be watching all the good young talent in the Championship and below.
"When a 17-year-old looks to have the ability Will has, then it is bound to attract attention. It is inevitable. We don't mind that at all. It shows he is doing something right and it is great for our Academy.
"There are not too many 17-year-olds playing week in, week out with his ability in the Championship - or anywhere - and we think he is good enough to go to the next level.
"The best possible thing for him at the moment is to stay with us, get a season or two under his belt in the Championship and just keep learning and improving.
"Can we hang onto him? We hope we can.
"We've still got to be careful with Will, because he has played only 16 or 17 games, so it is still very early in his career. It is important he keeps his feet on the ground, that he doesn't get carried away with things and that he keeps performing week in, week out.
"He is level-headed and intelligent enough to do that."
Arsenal were last week linked with a move for Hughes, who has been labelled as the new Liam Brady after the club had reportedly scouted the youngster earlier this season.
Given Hughes' simple style of play, it comes as no surprise that Arsenal boss Arsene Wenger is interested in the Derby academy graduate.
Hughes' style is similar to that of Jack Wilshere and Thomas Eisfeld but despite his potential Arsenal fans are likely to be disappointed should another young player be signed ahead of a established international.